Paramahamsa Sri Swami Vishwananda
'My mission is to open the hearts of humanity.'
Only a knower of God can guide you to the ultimate goal.
DECIDE FOR YOURSELF
Many people from around the world, from all cultures and walks of life, testify to the divine acts and selfless love of Paramahamsa Vishwananda.
Such experiences are wonderful and are just the beginning. The greatest miracle is the transformation people go through, realising true love and bliss in their life. You can experience it too.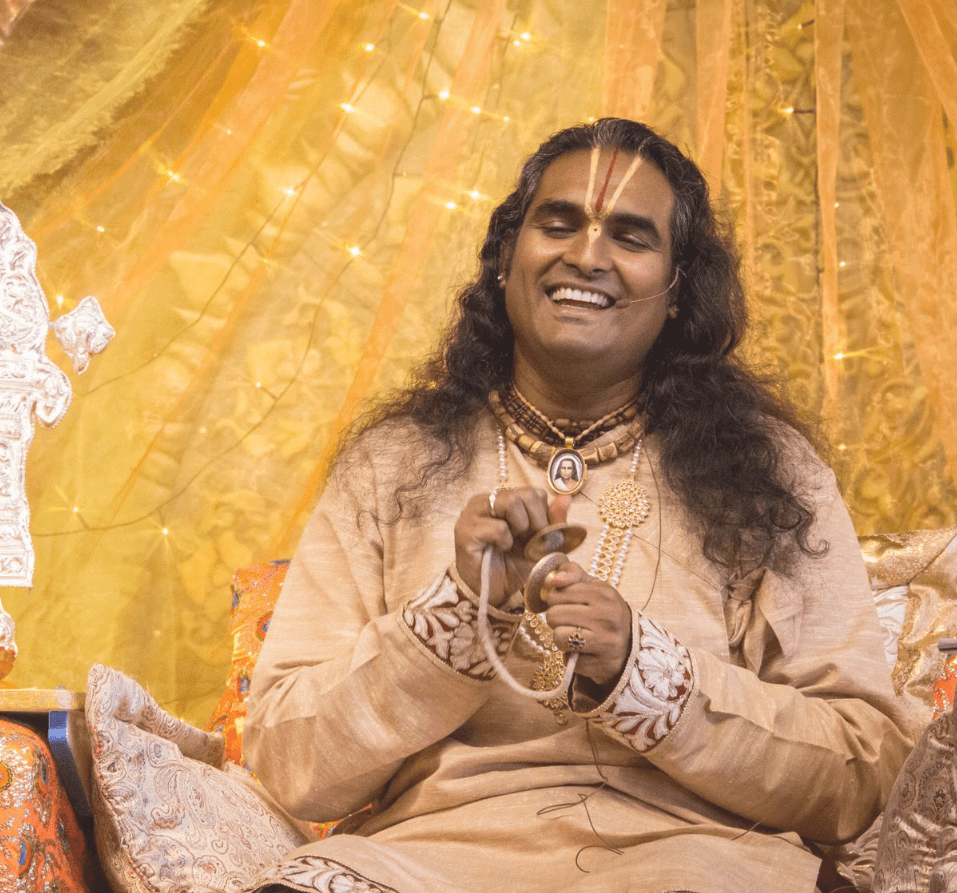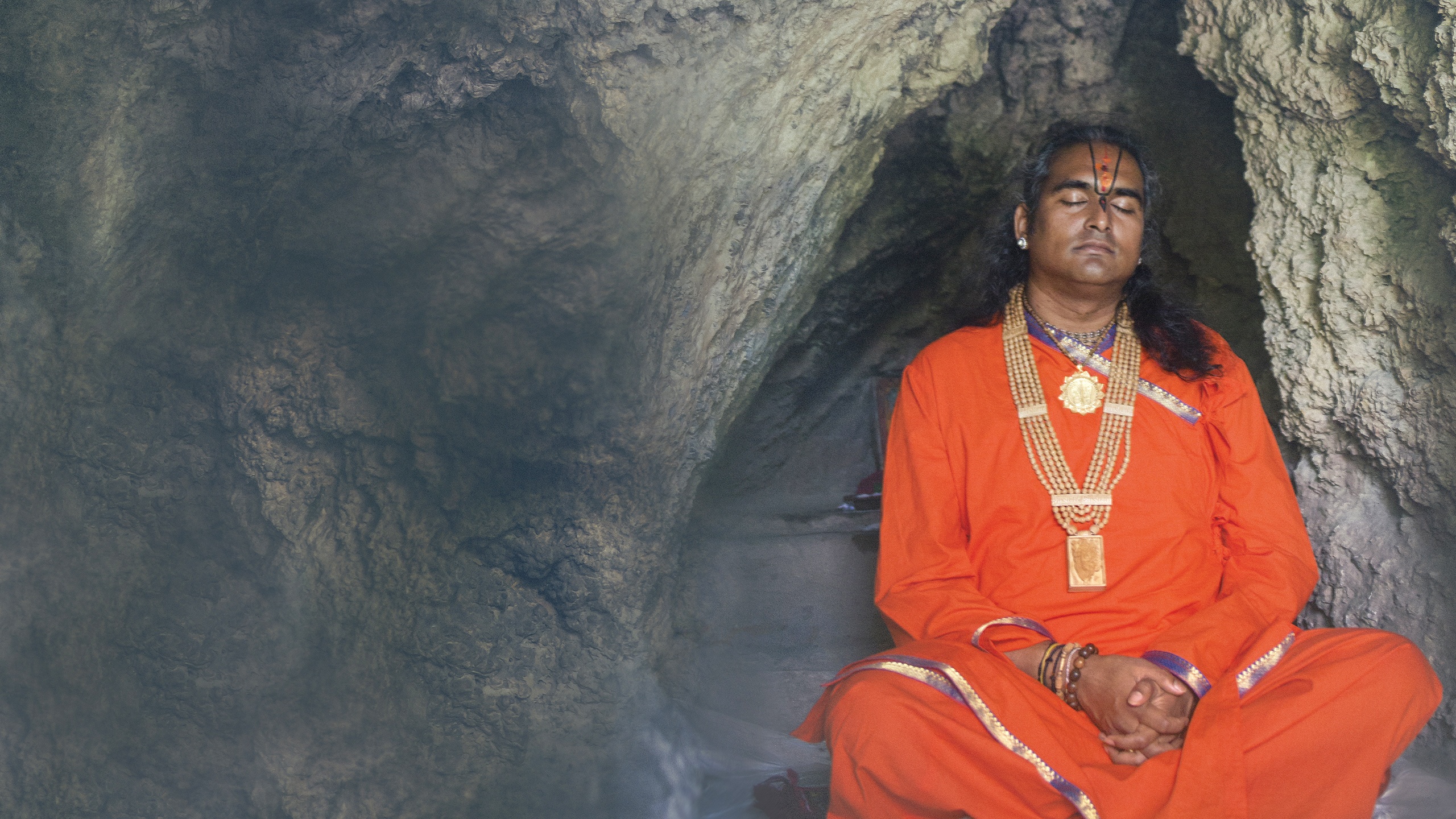 Paramahamsa Sri Swami Vishwananda was born a kriya-yoga Master with full awareness and mastery of all kriya-yoga techniques. Through His grace, and the grace of His guru, Mahavatar Babaji, the world is blessed with Atma Kriya Yoga.
Atma Kriya Yoga techniques cultivate bhakti, which allows you to experience and enjoy a uniquely personal relationship with the Divine. It is this relationship, in addition to the Shakitpat initiation, that helps clear the way so you can rapidly advance on your spiritual path.
Kriya-yoga Sadhana
Kriya-yoga is an ancient meditative yogic tradition brought to the world by Mahavatar Babaji to help humanity attain self-mastery and realise the Divine.
Paramahamsa Vishwananda teaches that the path to mastery is through sadhana, a consistent structured spiritual practice. As a kriya-yoga Master, He has chosen kriya-yoga as the primary meditative sadhana for Bhakti Marga.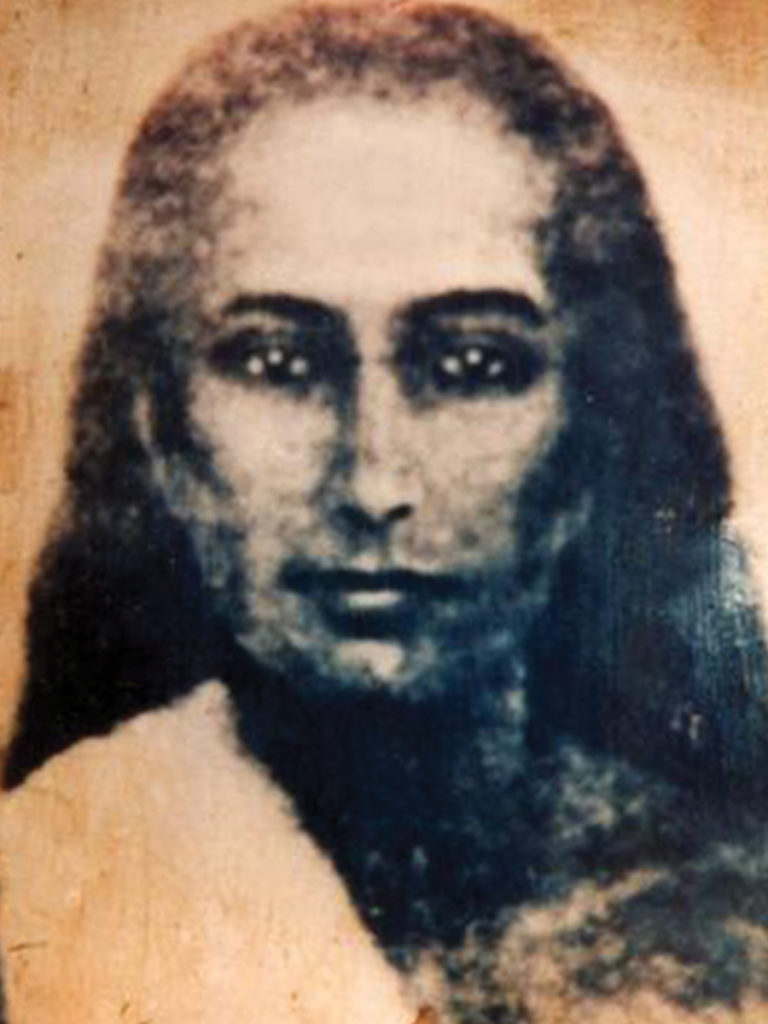 Kriya Yoga for Today
Paramahamsa Vishwananda is a direct disciple of Mahavatar Babaji who asked Him to bring a new form of kriya-yoga to the world. Together they chose the kriya-yoga techniques best suited for our current times. In 2007, Paramahamsa Vishwananda introduced Atma Kriya Yoga through Bhakti Marga.
Atma Kriya Yoga
Atma Kriya Yoga means 'action with awareness of the soul'. Paramahamsa Vishwananda says the fastest way to develop this awareness, and attain the Divine, is through bhakti.
Each Atma Kriya Yoga technique is specifically designed to cultivate one of the nine forms of bhakti. Awakening love and devotion for the Divine allows you to enjoy the Divine through your practice, moment by moment, breath by breath.
Shaktipat Initiation
Atma Kriya Yoga includes Shaktipat initiation which is a transference of spiritual energy that pours the grace of all kriya-yoga Masters into the student. Through the grace of Paramahamsa Vishwananda and Mahavatar Babaji, this blessing plants the seeds necessary for God-realisation and rapid advancement on the spiritual path.
Every student who receives Shaktipat is automatically initiated into the kriya-yoga lineage.
Bhakti Marga Yoga & Meditation in the World
Paramahamsa Vishwananda's inborn mastery of kriya-yoga uniquely qualifies Him to initiate teachers and guide others on the path. He has initiated an extraordinary number of teachers.
As of 2017, 225 Atma Kriya Yoga teachers, on six continents, have been initiated and received the blessing to teach and give Shaktipat initiations to others.
Paramahamsa Vishwananda has also blessed a number of other practices derived from Atma Kriya Yoga to help students experience the power of a personal practice and to pave the way for deepening their relationship with the Divine.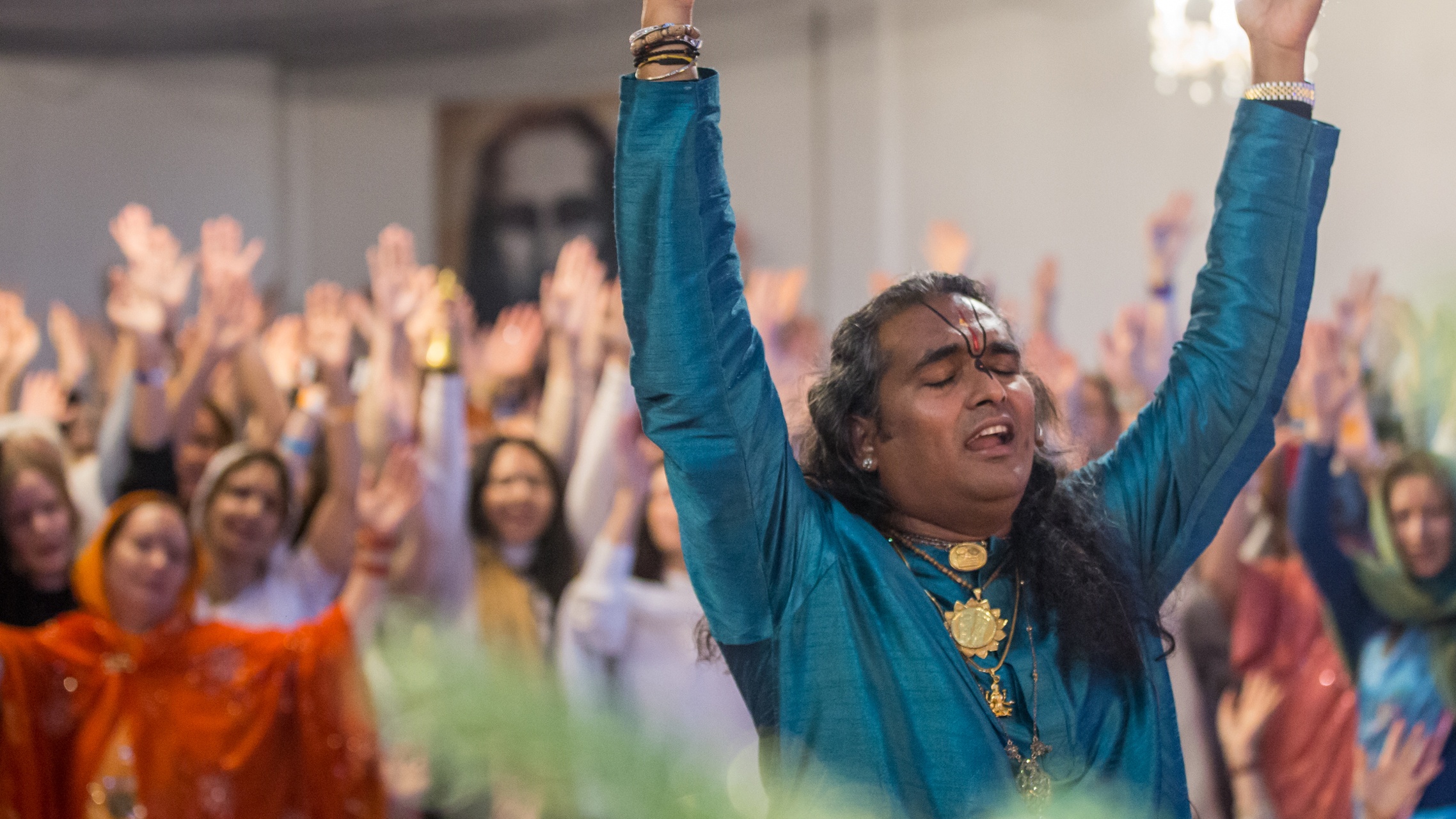 Paramahamsa Vishwananda is the founder of the international organisation known as 'Bhakti Marga', which means the 'path of devotion'. It is through Love and with Love that Paramahamsa Vishwananda has inspired a global community to share His wisdom, teachings and spiritual practices with the world.
All of Bhakti Marga's efforts and offerings are dedicated to supporting His mission of awakening bhakti in everyone to live a life of devotion to God.
Launched the Bhakti Marga Mission
The Bhakti Marga mission was launched on Paramahamsa Vishwananda's 27th birthday. He then began to travel the world to give darshans, lead pilgrimages, build communities, and initiate brahmacharis into the Bhakti Marga Spiritual Order.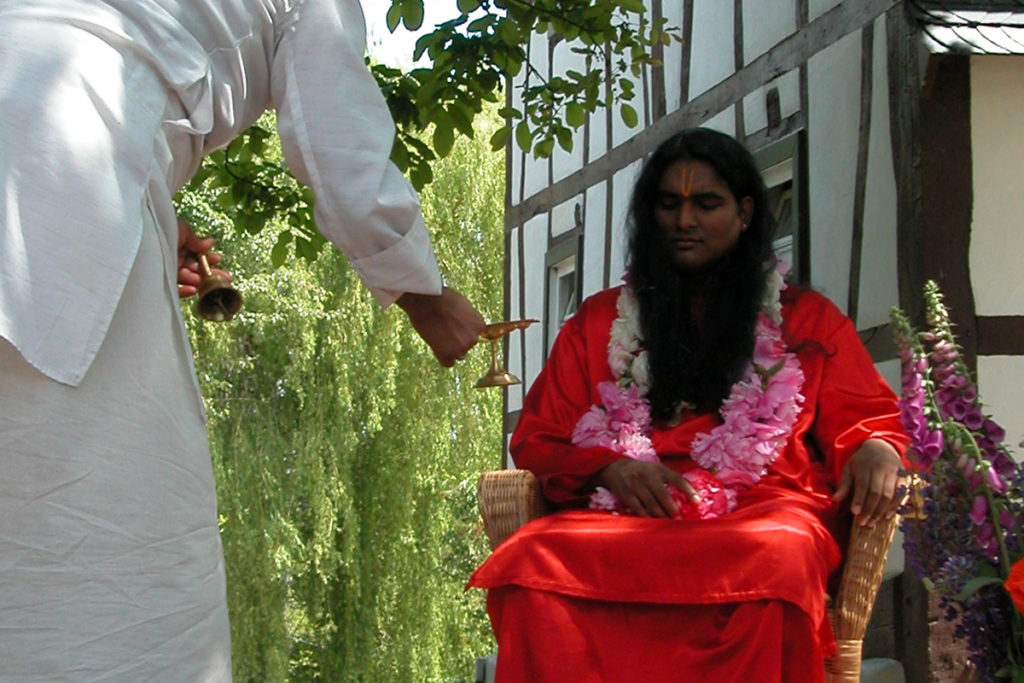 Founded the Spiritual Order
Devotees who wish to formalise their commitment to following His teachings and guidance may take initiation into the Bhakti Marga Spiritual Order.
Initiations include devotee, brahmachari and brahmacharini (monks and nuns), rishi (teachers), swamis and swaminis (masters).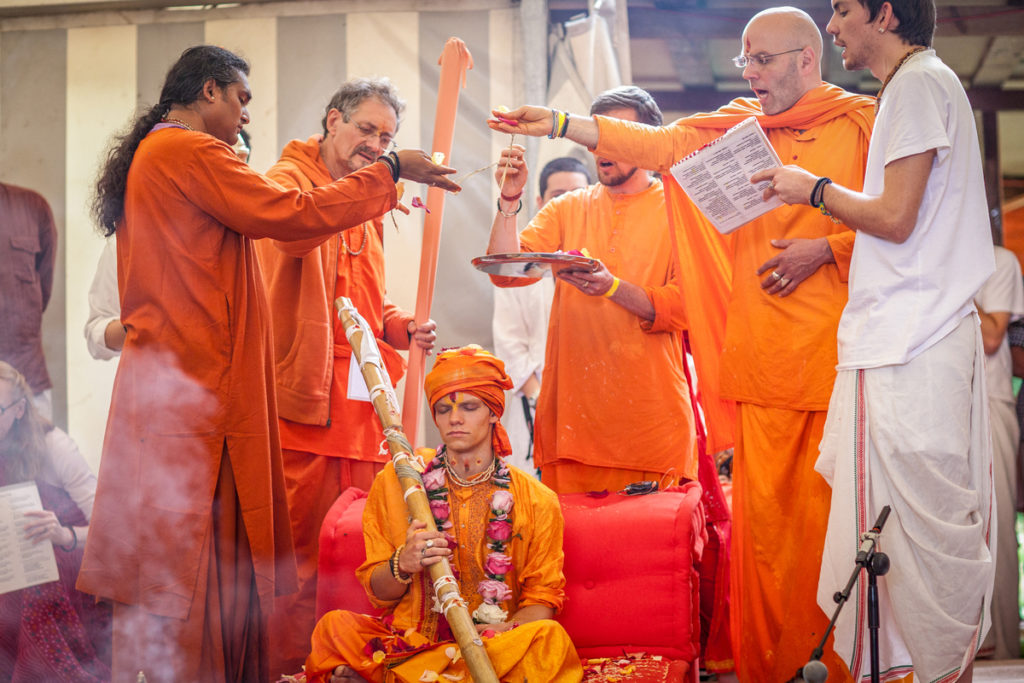 Introduced Devotional Art
Paramahamsa Vishwananda introduced painting as a meditative way to deepen a connection with the Divine in form. Bhakti Marga Devotional Art has evolved a lot over the years.
The Sri Bhutabhrteshwarnath Mandir is its crowning glory, with its art prominently featured on all the walls of the temple. Paramahamsa Vishwananda's guidance was sought in every phase of the 100+ murals and wall reliefs. Today, Bhakti Marga artists are in demand all over the world to paint temples and offer classes.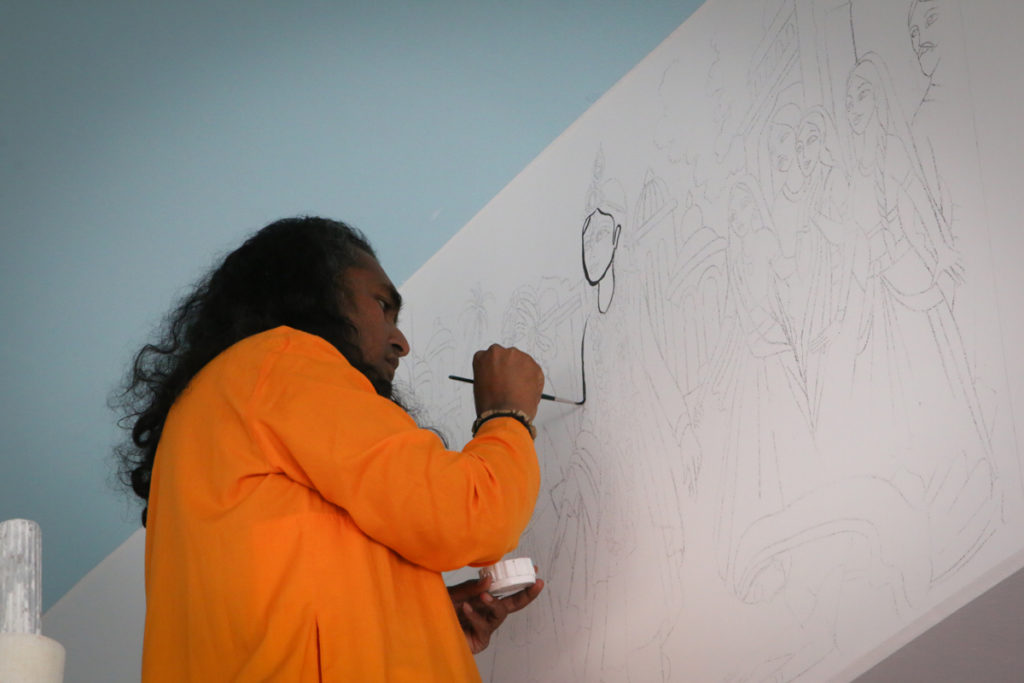 Introduced Devotional Music
Devotional music is an important feature of every Bhakti Marga event and Paramahamsa Vishwananda encourages everyone to sing along. He praises kirtan and bhajans for their ability to help us forget about ourselves, awaken our hearts and express our devotion.
Expanded Rituals
Unprecedented in history, Paramahamsa Vishwananda has woven together the rich temple worship practices of Southern Vaishnavism with classic Vedic hymns and intimate, ecstatic devotional love songs that glorify the Divine in many forms. These practices offer a unique opportunity to experience and express bhakti through loving devotional service to the Divine.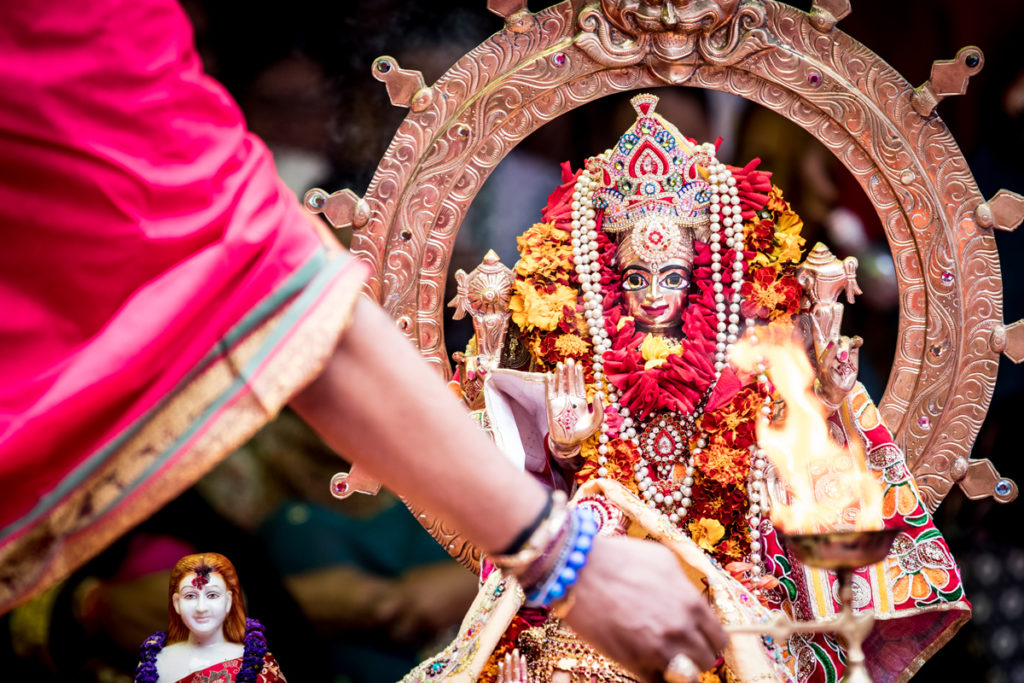 Planted Seeds for Community
Paramahamsa Vishwananda often speaks about how important it is on the spiritual path to associate with positive, like-minded people. Inspired by His teachings, Bhakti Marga communities are present in more than 80 countries on six continents. These groups gather regularly for events, courses and worship. They truly reflect the Sanskrit concept of vasudhaiva-kutumbakam: the world is one family. Guests are always welcome.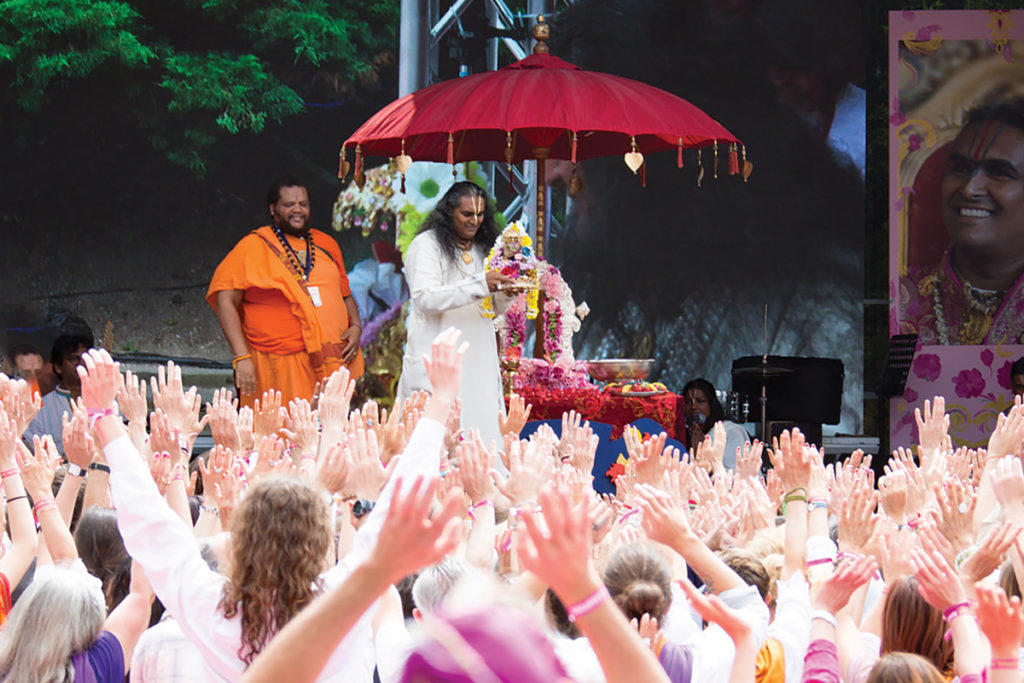 Introduced Bhakti Marga Yoga & Meditation
Daily meditative and yogic sadhana (or spiritual practice) was first introduced in the form of Atma Kriya Yoga. Paramahamsa Vishwananda is a kriya-yoga Master and a direct disciple of Mahavatar Babaji. Together they chose to bring forth kriya-yoga techniques that develop bhakti and allow practitioners to experience their own unique relationships with the Divine.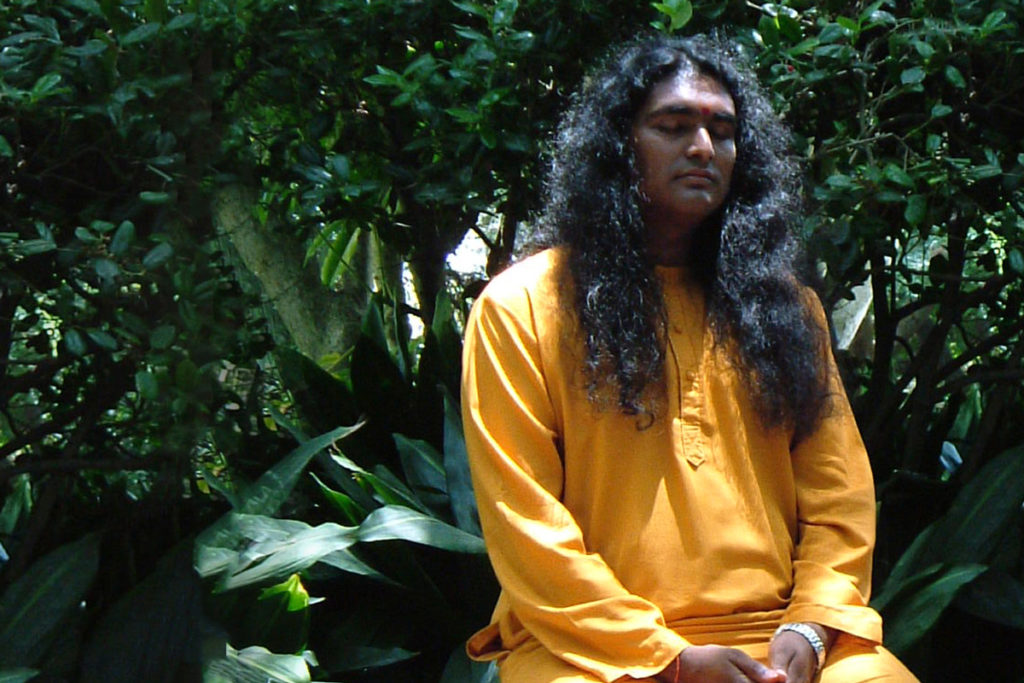 Inaugurated Temples
To support and strengthen communities, and to help people stay connected with the practices that elevate them, Paramahamsa Vishwananda has inaugurated 30 temples around the world. All temples welcome visitors who wish to come and celebrate the Divine in the company of bhaktas.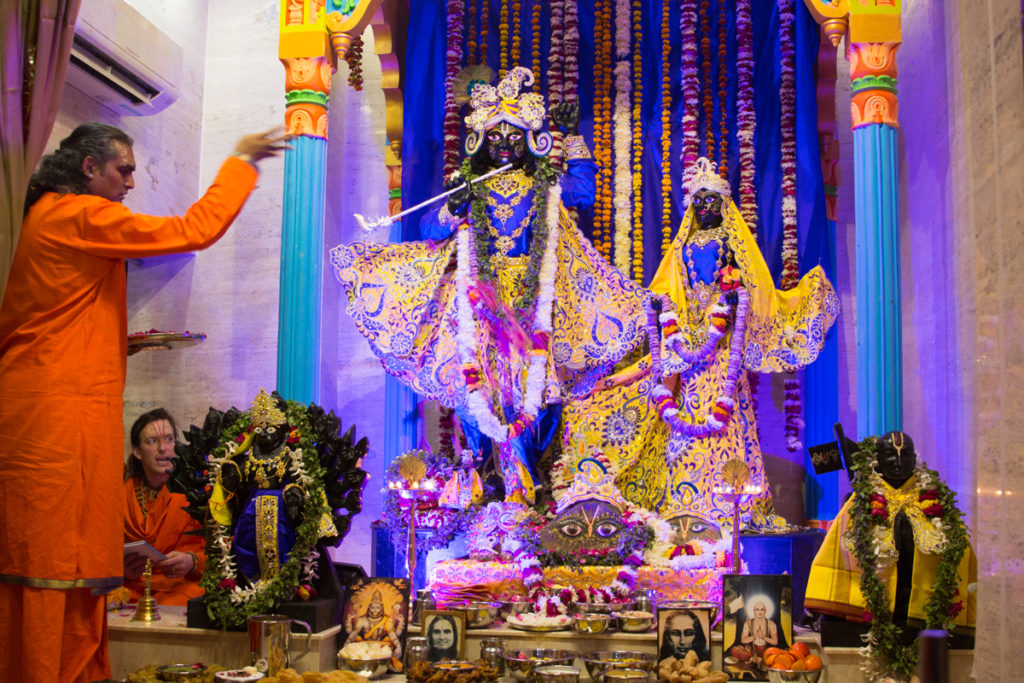 Opened Shree Peetha Nilaya
Masterfully using experience as a teaching tool, Paramahamsa Vishwananda called upon residents and devotees to work together to completely refurbish an abandoned seminar complex to house His main ashram. Teaching by example, He was ever-present during the renovations, and a major part of every construction decision.
It took six years of love, patience and unity to turn the seriously damaged building into the beautiful centre it is today. Shree Peetha Nilaya, the abode of Maha-Lakshmi, opened to the public in 2013.
Following Paramahamsa Vishwananda's lead, additional ashrams have been built by His swamis around the world. As of 2018, ashrams are open in India (Vrindavan), Latvia (Riga) and Russia (Moscow). Three more are under construction in South Africa, Czech Republic, and two more in Russia.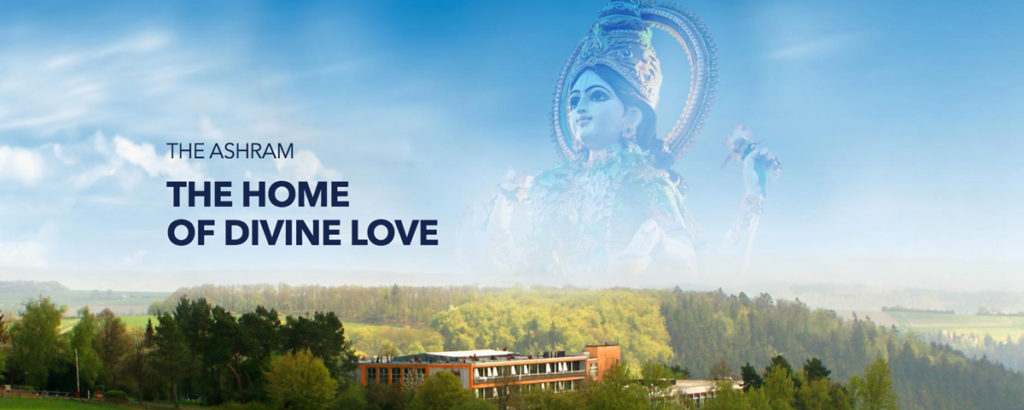 Created the Just Love Festival
To bring music that glorifies the Names of God to a wider audience, and to create an uplifting experience of Divine Love, Paramahamsa Vishwananda started the Just Love Festival. The three-day spiritual party has quickly become Europe's largest spiritual music festival attracting world-renowned international artists and thousands of guests.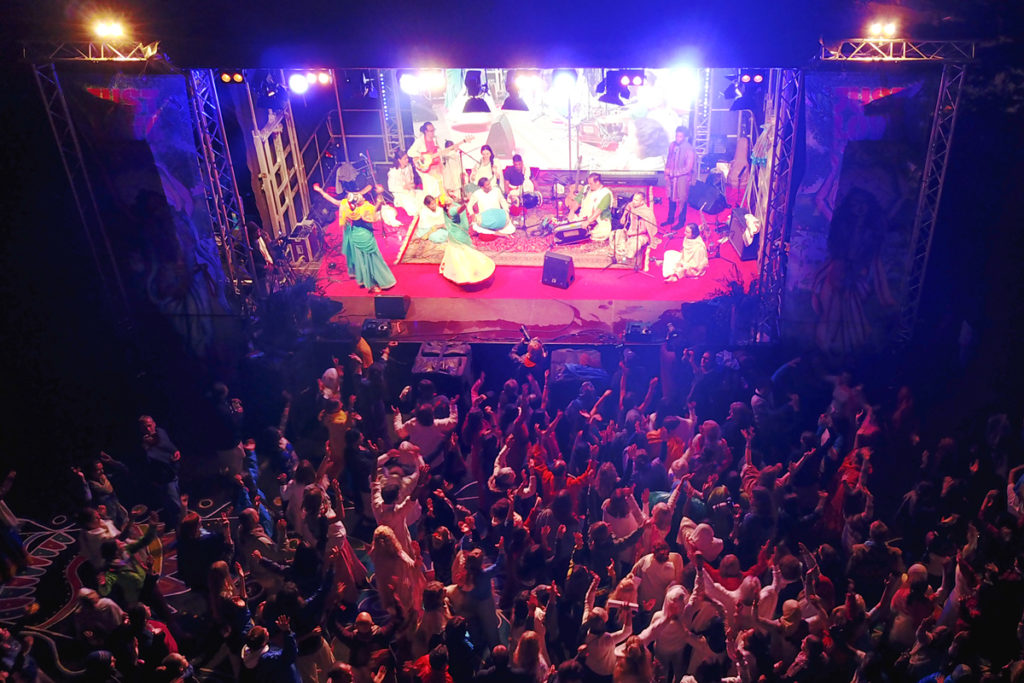 Inaugurated a Hindu Saint Museum
Throughout the years, Paramahamsa Vishwananda has collected an impressive array of over 500 relics from the most esteemed and revered saints in all of Hinduism. Now on reverent display in the Hindu Saint Museum at The Ashram, He invites everyone to come and venerate those who lived a life of Divine Love and who saw God in everyone and everything.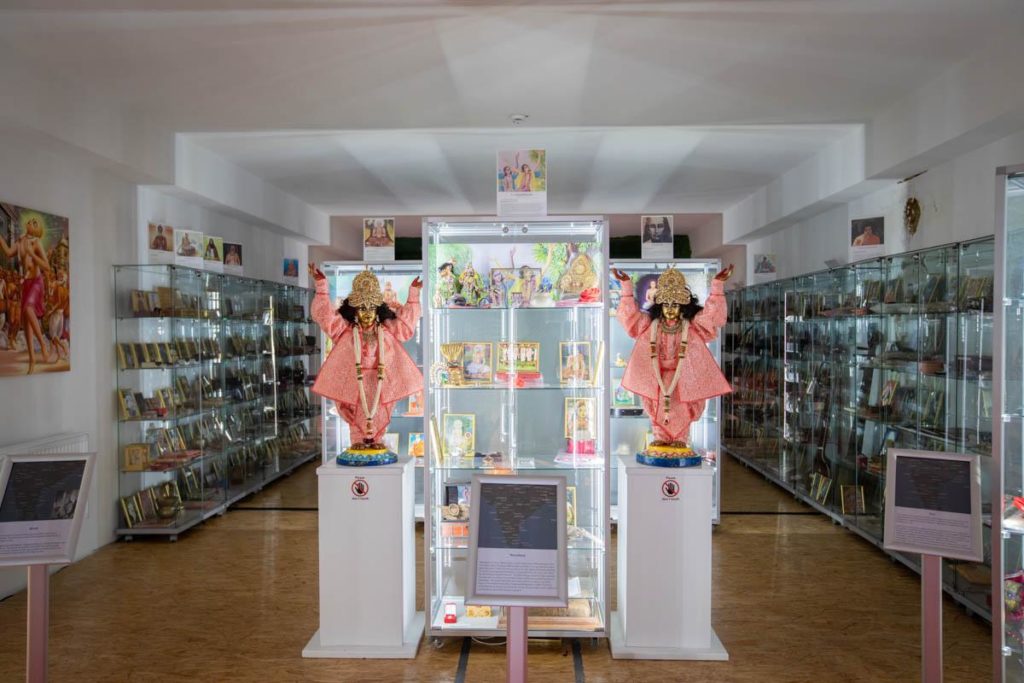 Inaugurated an Extraordinary Temple
The Sri Bhutabhrteshwarnath Mandir is a testament to bhakti, saturating the senses with the Divine on every level: art, scriptures, music, worship practices, the lives of saints, and a community of lovers of the Lord. Inspired by the Srimad Bhagavad Gita and Srimad Bhagavatam, more than 100 wall paintings glorify the pastimes of Krishna, avatars of Lord Narayana, Vaishnava saints, and the bhaktas who loved them. The art alone is worth a trip to see this beautiful expression of bhakti.
The temple is the crown jewel of Shree Peetha Nilaya and invites everyone to attend prayers with 'Live from the Ashram' broadcasts available through The Ashram website.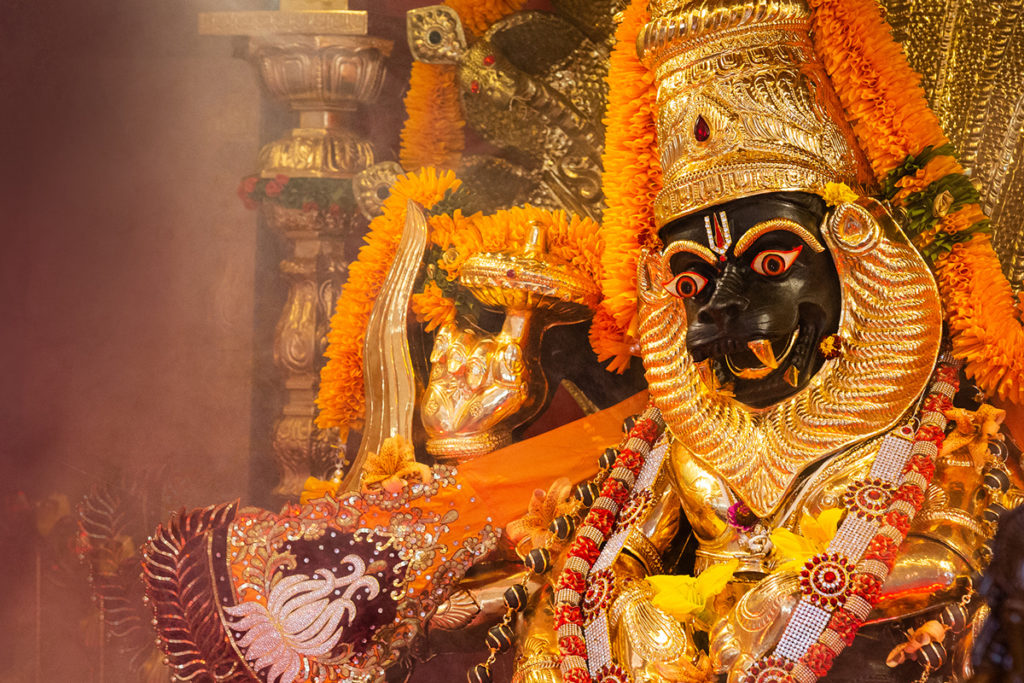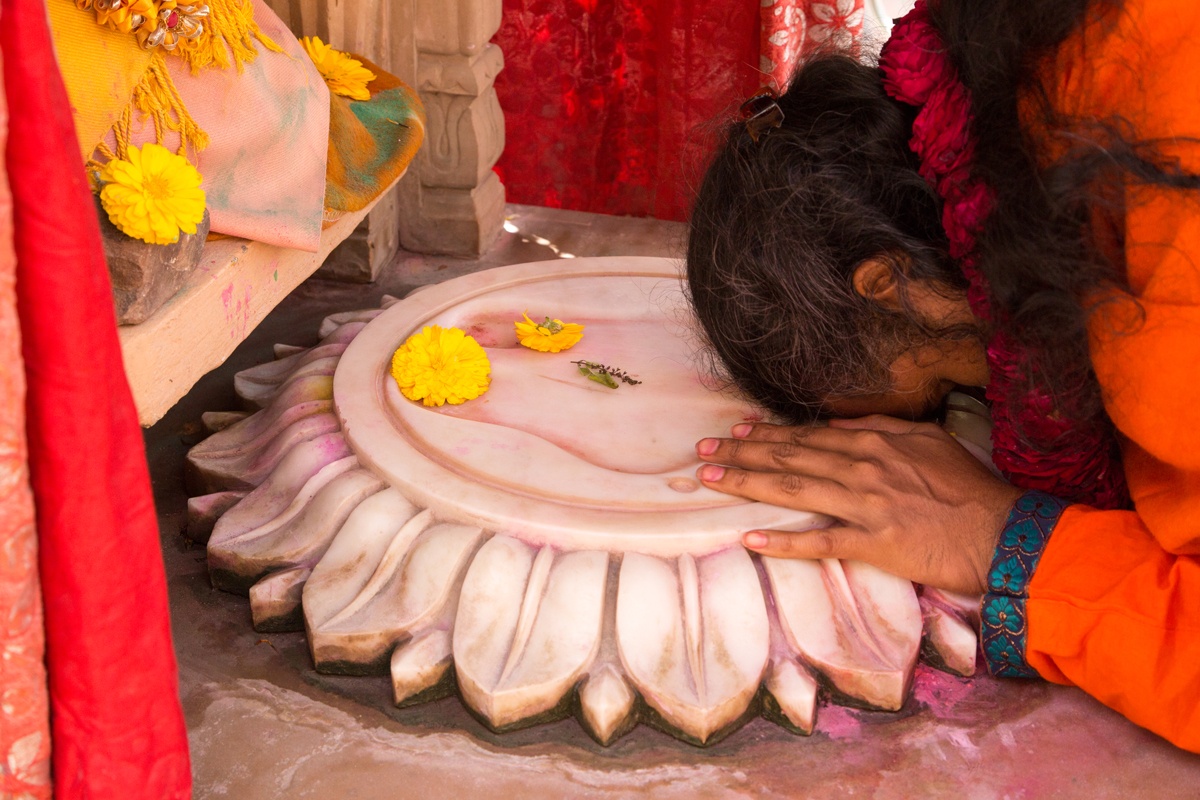 Paramahamsa Vishwananda lives bhakti with each and every breath He takes. Every action is done with the awareness and love of God, first and foremost. This is living bhakti.
Bhakti is not a religion; it is a way of living and a way of loving the Divine. Bhakti is not bound by dogma; it is a personal relationship that gives you the freedom to worship God in whatever form of Love you like: as a friend, a servant, a parent, or a lover.
Devotion to God, living bhakti, can be quite simple, as Paramahamsa Vishwananda often reminds us with this quote from the Bhagavad Gita, where the Lord says:
He who offers to me with devotion a leaf, a flower, a fruit, or water, that offering of love from the striving soul is acceptable to me.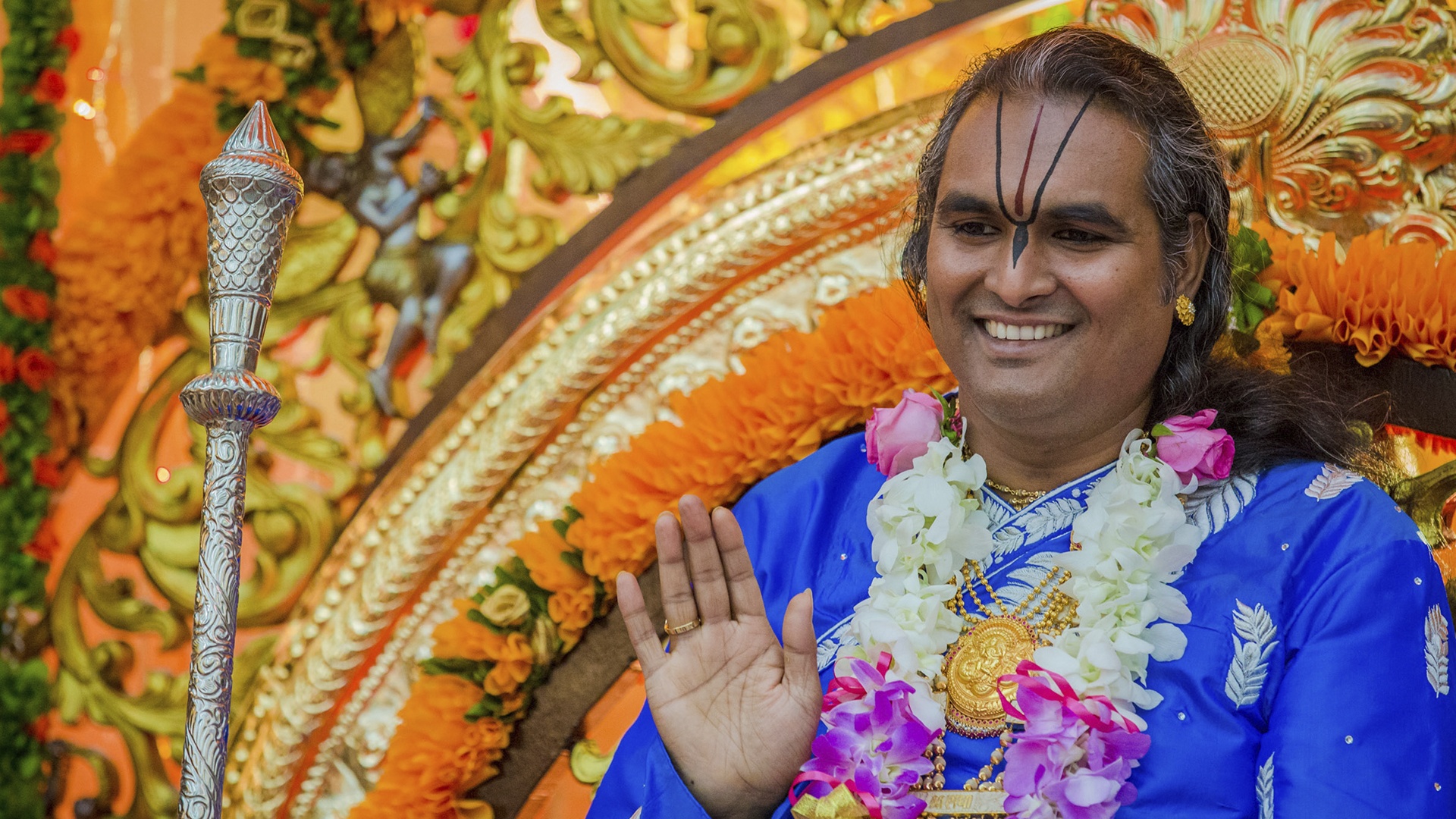 Paramahamsa Sri Swami Vishwananda is a living satguru who is in constant union with the Divine. He didn't achieve this state through study or labour; He was born God-realised. As He often humbly says, He was born to open the hearts of man and remind humanity of the Love of God.
True satgurus are exceptionally rare and they dedicate their lives to selflessly serving humanity as a whole. The transcendent nature of the satguru's being is not easy for the mind to understand, however. It is a mystery to be revealed and realised through the ability to live His teachings on a daily basis.
Guru
There is a difference between a guru and a satguru. Gurus are ones who can take one out of the darkness of ignorance. Gurus are teachers and you can have many gurus in life. But knowledge alone is not enough to grant liberation.
Spiritual Journey
To be on the bhakti path is not a random occurrence. It is a sign that God is longing for you just as you are longing for Him. When the time is right, He sends the satguru to show you the way, to help you rise above your negative thinking and develop positive divine qualities.
Paramahamsa Vishwananda is here to remind you of your divinity and give you an experience of Divine Love. And for those who are ready, He is here to shower them with the grace to realise God.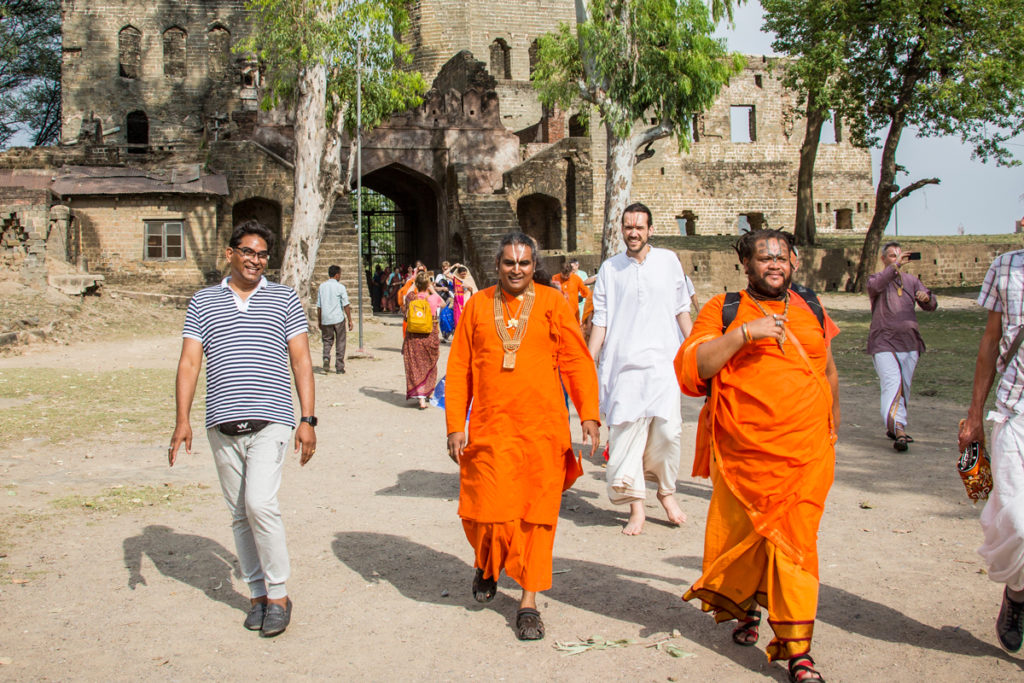 Satguru
A satguru is one who has had the vision of God and knows Him well. You only have one satguru. It is an eternal relationship that lasts throughout many lives, and only your satguru can free you from the cycle of birth and death caused by karma. Paramahamsa Vishwananda is such a being.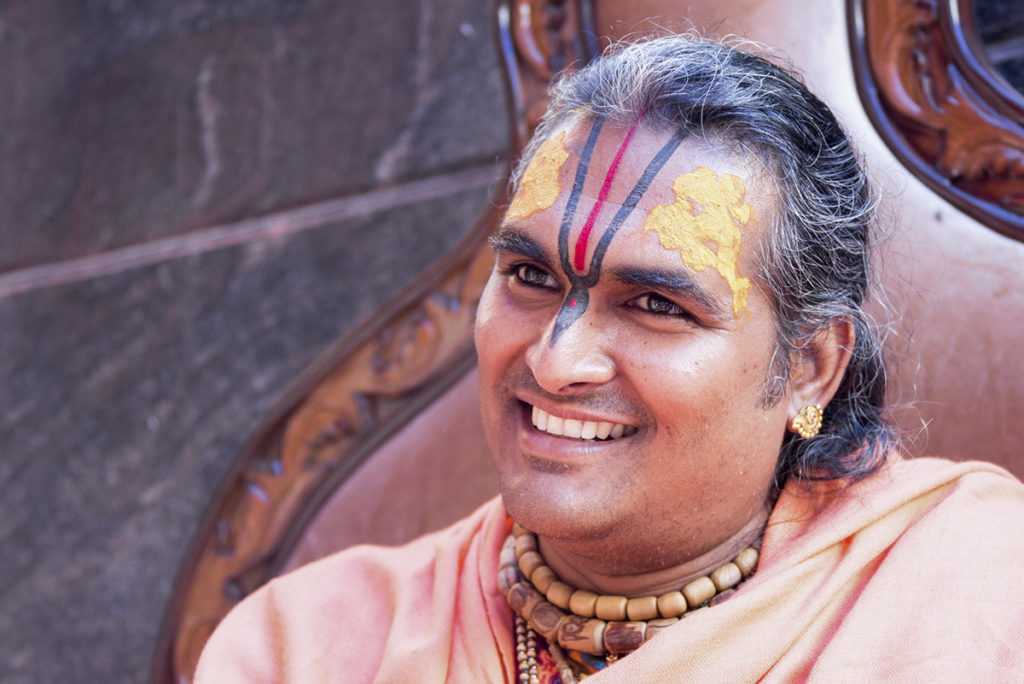 Grace
The grace a satguru carries is indescribable as the Lord is ever present with Him. To meet your satguru is an immeasurable blessing and rare opportunity. Through His infinite mercy, Paramahamsa Vishwananda graciously takes responsibility for the spiritual attainment of all those who sincerely seek and follow His guidance.
Gems
Paramahamsa Vishwananda provides support to His devotees in the form of sadhana (spiritual practices), wisdom, teachings and personal experiences. His continual aim is to help people transform everything that stands in the way of them realising their innate divine qualities and attaining God.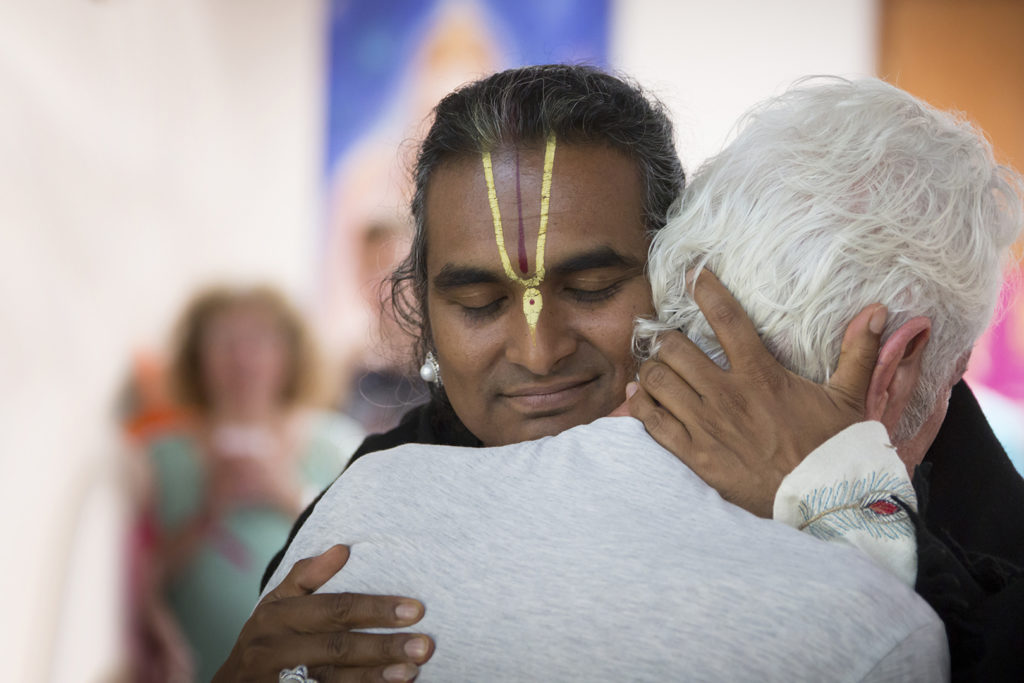 Priceless
To receive darshan from a satguru is a treasure beyond words. A satguru's wisdom is beyond compare as He is the living embodiment of the timeless scriptures. To take initiation under a satguru provides the keys to realising eternal bliss.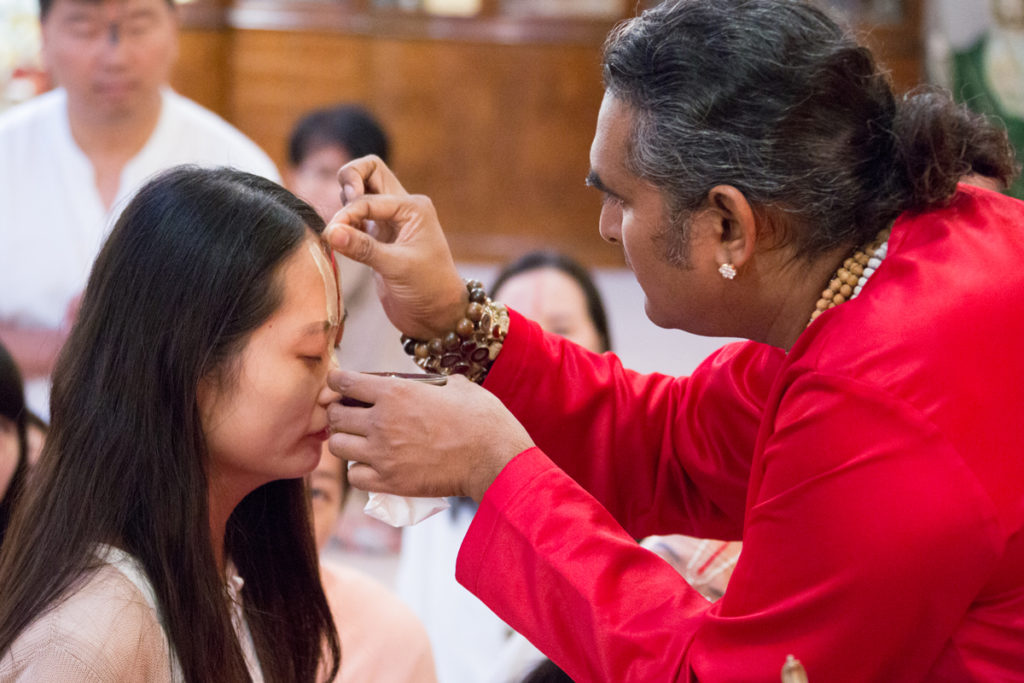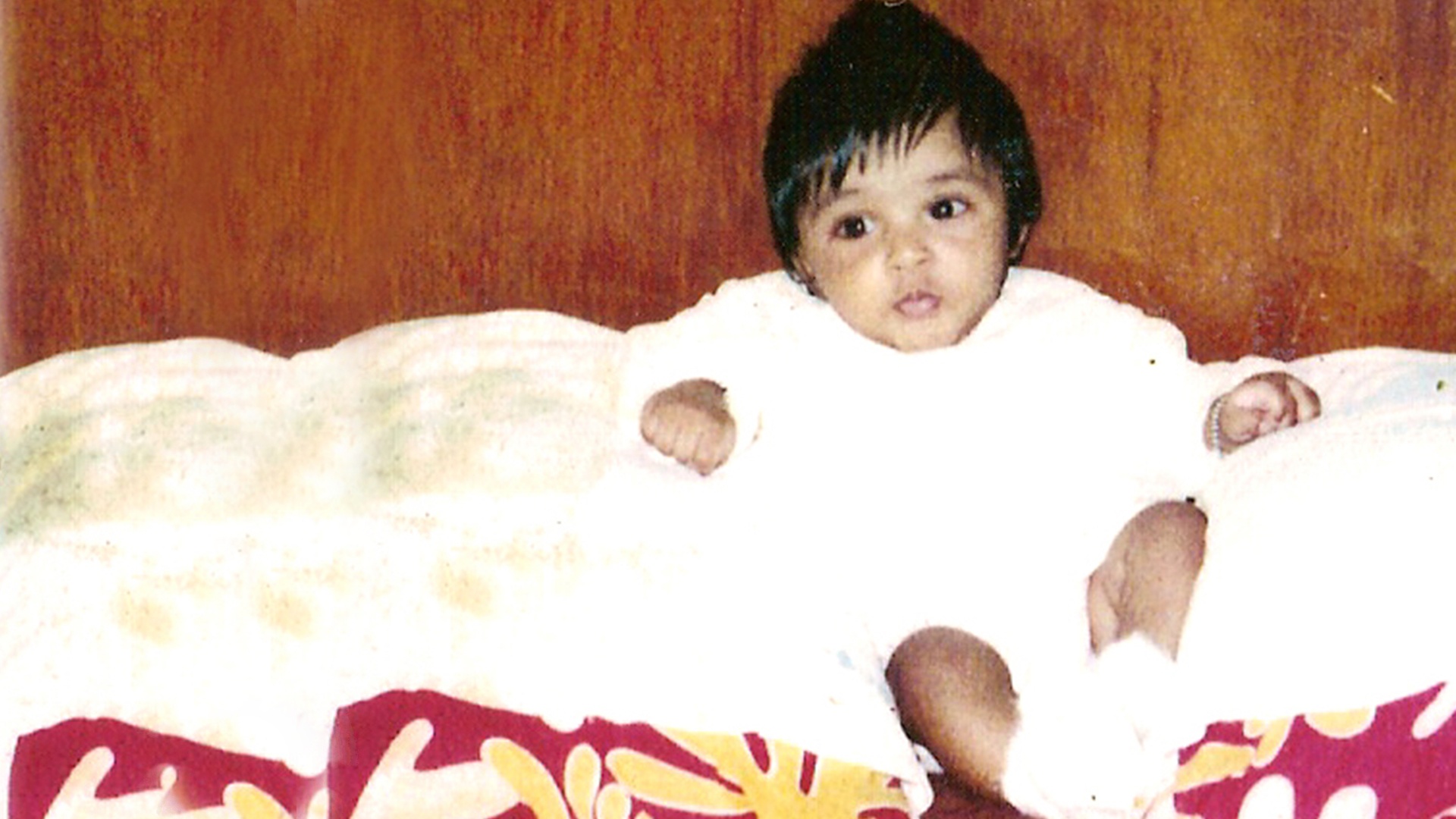 From the very beginning, it was clear that Paramahamsa Vishwananda was not an ordinary child. Instead of playing childhood games, He spent His time praying, visiting temples and acting out religious rituals, while always living in the presence of God. Even while very young, He enjoyed singing the Divine Names and inspiring all those around Him to love God. In truth, He has always been a living example of bhakti-marga, the path of devotion.
Born God-realised
Paramahamsa Vishwananda was born God-realised on 13 June1978 on the beautiful island of Mauritius, off the coast of Africa. Almost immediately, people could see that this child was someone special.
An Esteemed Brahmana Heritage
His parents belonged to the Bharadwaja-gotra, a noteworthy brahmana family lineage that dates back thousands of years, even before the time of Krishna.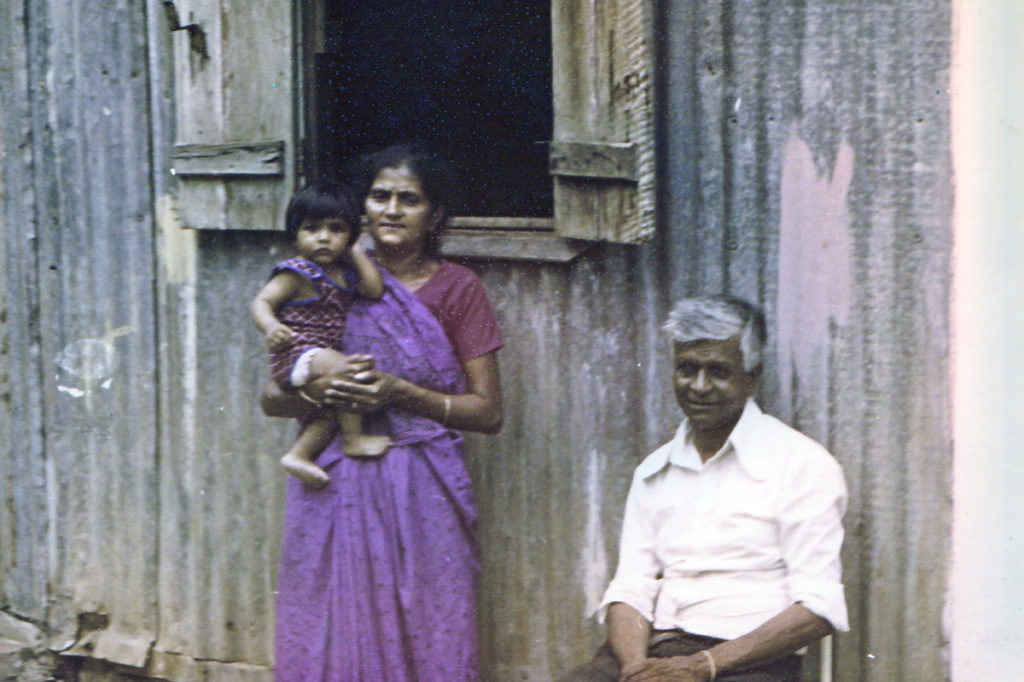 Met His Guru
His guru, Mahavatar Babaji, first appeared to Him when He was about five years old, recovering from eating some poisonous berries in the hospital. As Paramahamsa Vishwananda tells of the experience, this was when He saw the Light of His true Self, a light brighter than the sun. He was to see Mahavatar Babaji again and again as time passed.
Experienced Samadhi
At the age of 14, He began to embrace His mission as a spiritual Teacher after He experienced a state of samadhi (complete absorption in the Divine).
Attracted Attention
It didn't take long before His vibrant personality and unmistakable realisation of the Divine began to attract more and more people seeking His blessings and advice. Much to His mother's dismay, visitors lined up at His home wanting to meet with 'the young saint'.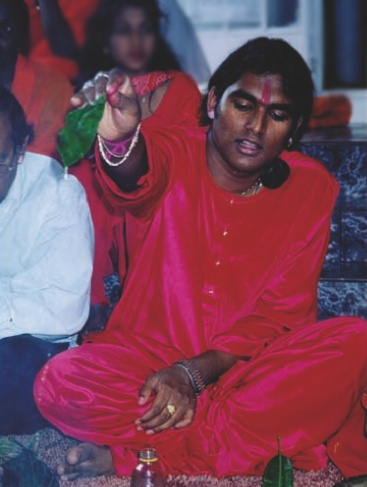 Settled in Europe
At the age of 19, He visited Europe for the first time. Very quickly, spiritual seekers started to gather to see Him. At this point in time, the Divine Mother appeared to Him and asked Him to settle in Europe.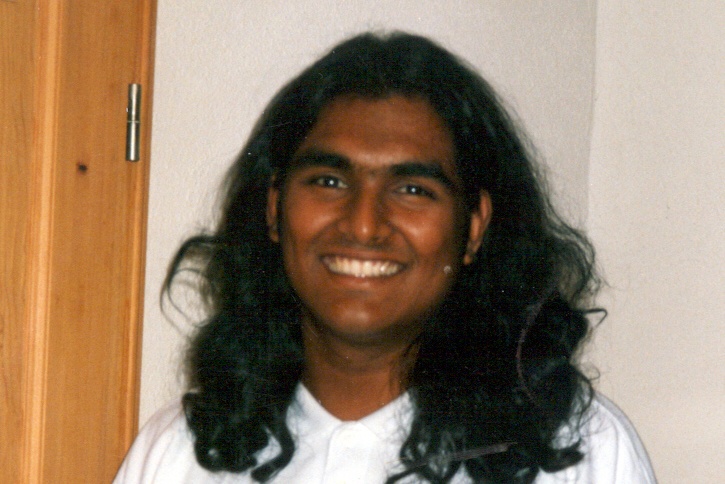 Established the First Ashram
His first ashram was established in tiny village of Steffenshof, Germany when a handful of followers decided they all wanted to live together. What started with a single house, soon grew to four. After just three and a half years, as more and more devotees joined the group, it was clear they needed a larger place to call home.
Launched Bhakti Marga
On His 27th birthday, He officially launched His public Bhakti Marga Mission. Bhakti Marga means 'path of devotion'. This meaning described His life perfectly, and through Bhakti Marga, His message and teachings could be spread throughout the world.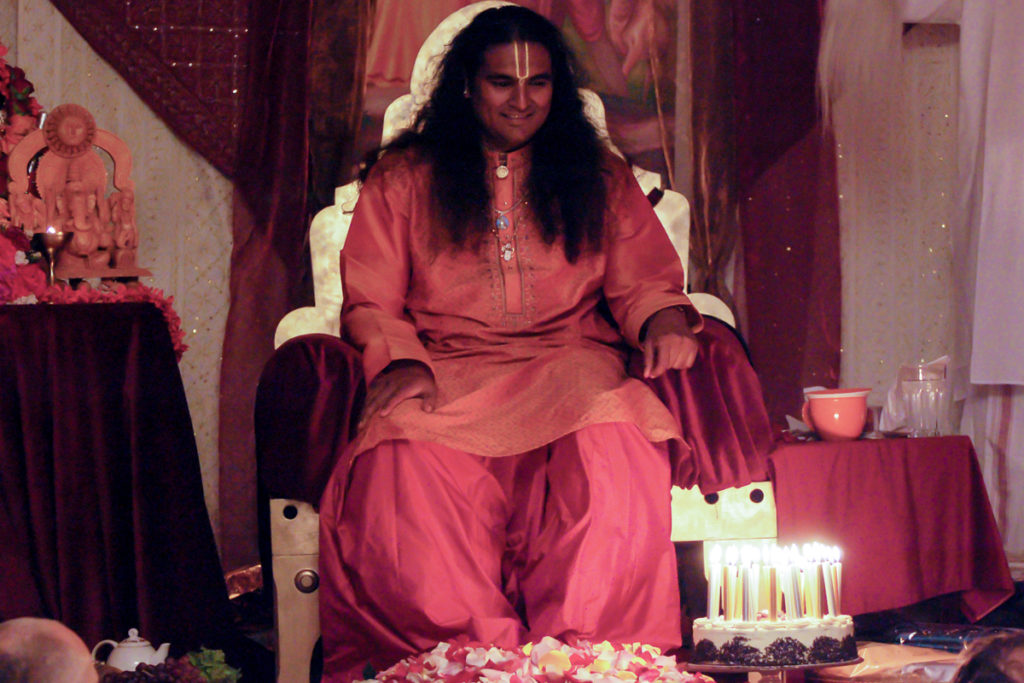 My mission is to open the hearts of humanity.
Paramahamsa Sri Swami Vishwananda

My mission is to open the hearts of humanity.
Paramahamsa Sri Swami Vishwananda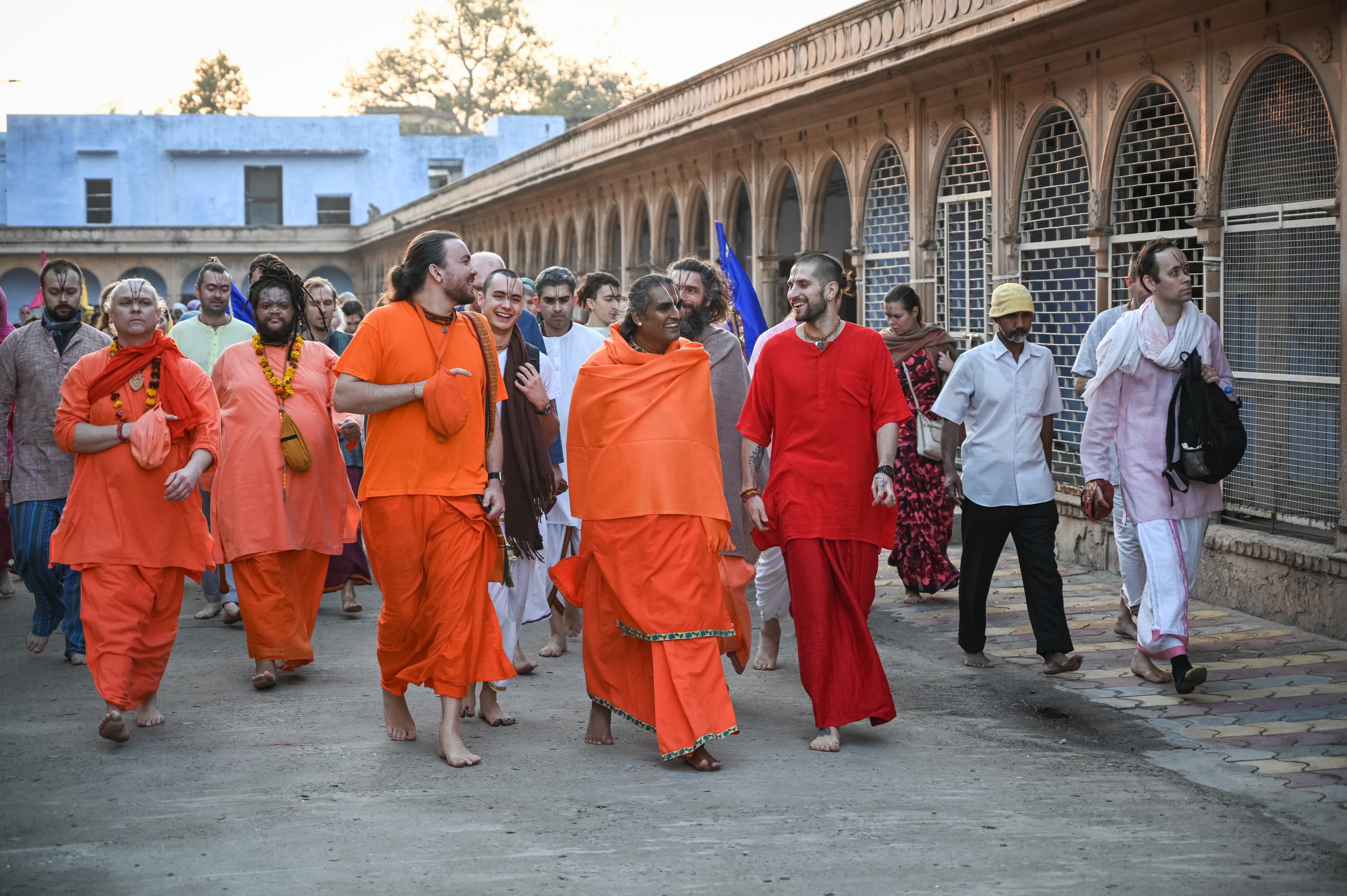 HIS MISSION
His personal mission is to 'open the hearts of humanity'.
He does this by tirelessly traveling the world to awaken love and devotion of the Divine through personal blessings, spiritual talks, devotional singing, wisdom discourses and pilgrimages to holy sites.
HIS NAME AND TITLE
Paramahamsa Vishwananda's full name and title is Mahamandaleshwar 1008 Paramahamsa Sri Vedavyasa Rangaraj Bhattar Sri Swami Vishwananda.
Each piece of His name holds important significance and reflects His spiritual mastery.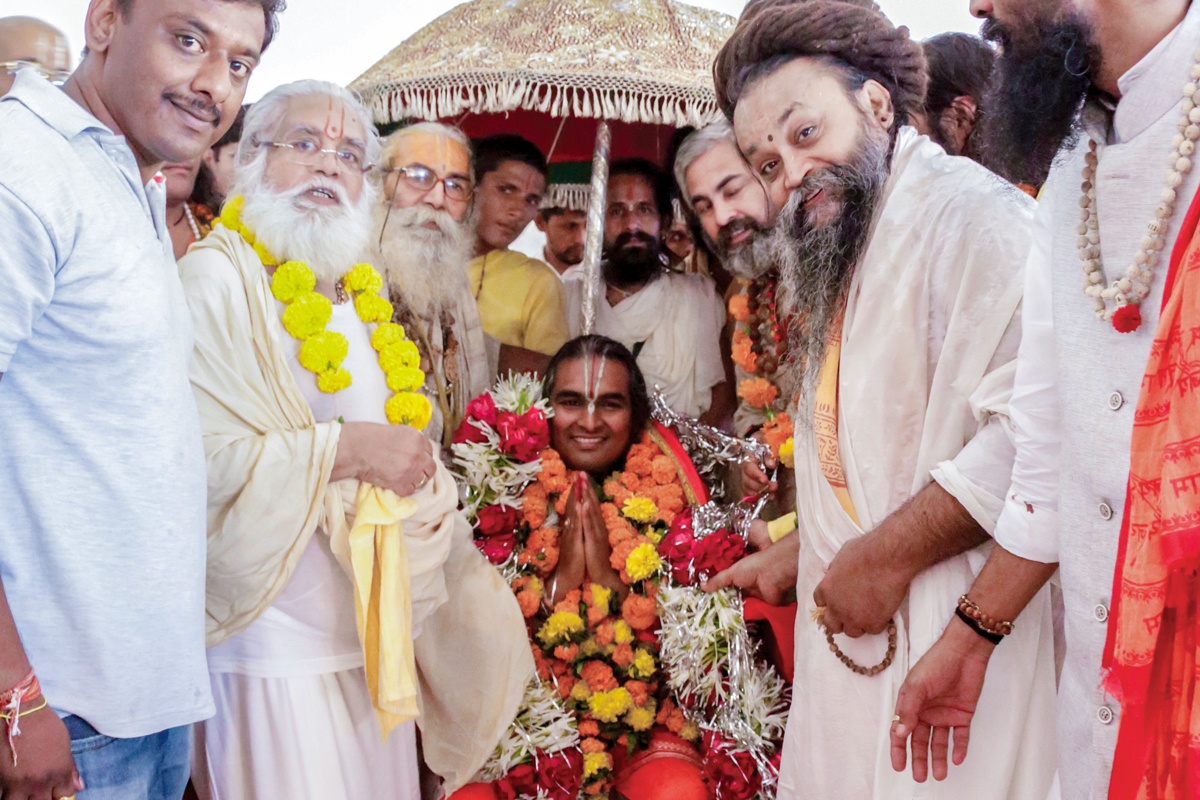 EXPERIENCES WITH THE MASTER
Paramahamsa Vishwananda's Love has had a profound effect on thousands of people all over the world. This series highlights real-life stories of those whose lives have been changed for the better.
Having issues watching the Youtube videos? Please accept all cookies:
Manage Cookies

CONNECT DIRECTLY WITH THE MASTER ONLINE
Paramahamsa Vishwananda connects with your soul through the universal consciousness to give you His darshan blessing.