ZOOM: DEVOTIONAL ARTS TEACHER TRAINING – PAINTING MEDITATION 2023
4 February · 09:30

-

9 February · 21:30

CET

€400.00 – €630.00

DEVOTIONAL
ARTS

PRICE
€400 – €630 – Online
See detailed chart in the event description

DATE:
4 – 9 February 2023

INTERPRETATIONS
Japanese

QUESTIONS?
onlineevents@bhaktimarga.org
ZOOM ID
The Zoom Meeting ID will be posted in your BhaktiID: (My Events – My Ticket)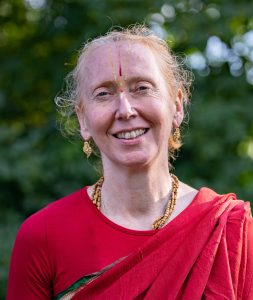 RISHIKA DAKSHINI
DEVOTIONAL ARTS TEACHER TRAINING – PAINTING MEDITATION
If you have ever felt called to become a Devotional Arts teacher in Painting Meditation and share this creative and joyful practice, now is your chance! The new Devotional Arts Teacher Training in Painting Meditation embraces all three Sri Yantra levels as well as the courses in Painting Meditation with devotional images.
'Painting is Meditation' — Paramahamsa Vishwananda
Why Become A Devotional Arts Teacher?
Paramahamsa Vishwananda encourages us to direct our natural desire for
sensory pleasure into the service of the Lord. Creatively capturing the
Divine in colour and form allows everyone to manifest and enjoy the full
spectrum of divine beauty.
Our experiences are influenced by our senses. Uncontrolled, they can turn
us into a slave for worldly pleasures. Channelling the senses toward the
Divine allows us to attain the highest happiness and loving communion
with God. Living bhakti through devotional arts lets you express your true
being and enjoy the splendour of your relationship with God.
'I love painting. I love to paint, because it brings you to such a focus that
nothing will disturb you, not even the people around you who are talking.' 
–Paramahamsa Vishwananda

What is included (Schedule)
Saturday, 4 – Thursday, 9 February
Daily from 10:00-13:00, 14:30 -17:30 and 20:30 – 21:30
Two months of access to the video recording on the Bhakti ID
Learning objectives 
Learn how to teach and spread courses in Devotional Arts around the world:
• Śrī Yantra Painting Meditation (Introduction Workshops)
• Śrī Yantra Painting Meditation (In-Depth) 
• Śrī Yantra Drawing (Construction Course)
• Painting Meditation with Devotional Images (Introduction Workshops)
Online:
€ 630 (you must provide your own equipment and materials)
€ 550 (repeater price*); * To qualify for this pricing, you need to have a certificate as a
Painting Meditation Teacher, Level 1
€ 400 (repeater price*); * To qualify for this pricing, you need to have a certificate as a Śrī
Yantra Painting Meditation Teacher, Levels 1 and 2
OPERATOR
Bhakti Event GmbH
Am Geisberg 1-8
65321 Heidenrod