WALKING THE PATH OF BHAKTI & MAHA SHIVARATRI 2023
15 February

-

19 February

WALKING THE PATH OF BHAKTI
Take time to truly appreciate and dive deep into your spiritual path. Connect inwardly with yourself and outwardly with sangha, nature, and the four arms of Bhakti Marga. While you are here, you are invited to join the residents in the evenings to watch 1 hour of daily highlights from the Mauritius Maha Shivaratri Virtual Pilgrimage.
Come, let's celebrate Maha Shivaratri and experience the love and joy of walking the bhakti path together. In addition to daily prayers, you can take part in group activities, satsangs, games and more. Plus, there will also be plenty of time to just 'be' and and refresh yourself by sitting and relaxing by the fire, sipping chai, chatting with friends, or taking a walk in the forest. 
BOOK YOUR STAY IN SPN
Book a single night, a few, or the entire program–whatever works for you.
Email us at registration@bhaktimarga.org

Indicate the dates/number of nights you want to stay

Indicate which room type you want: 2/3-bed (€60pp/night) or 4-bed (€45pp/night) 

Please also include:

Your name(s), email address, gender, ages of any children in your party
ACTIVITY PRICING
There will be a daily paid program of activities (see schedule below) during the retreat.
Maha Shivaratri Retreat & Virtual Pilgrimage Highlights: 15-17 February
€27/night for overnight guests
€36/night without accommodation
Children: Price upon request
Free Shivaratri Celebration: 18 February
 Virtual Pilgrimage Highlights Only: 19-23 February
€9/night for overnight guests
€18/night without accommodation
Activities Only
If you are NOT staying overnight, and you would like to take part in the daily activities including the Virtual Pilgrimage Highlights:
Please email the dates you want to attend to:

events@bhaktimarga.org
Be sure to include: Your name, email address, ages of any children in your party

Shivaratri is when you forget about your mind and let your mind dwell only on the Divine. That's what Shivaratri is – it is uplifting you and really awakening what is deep inside of you. 
— Paramahamsa Vishwananda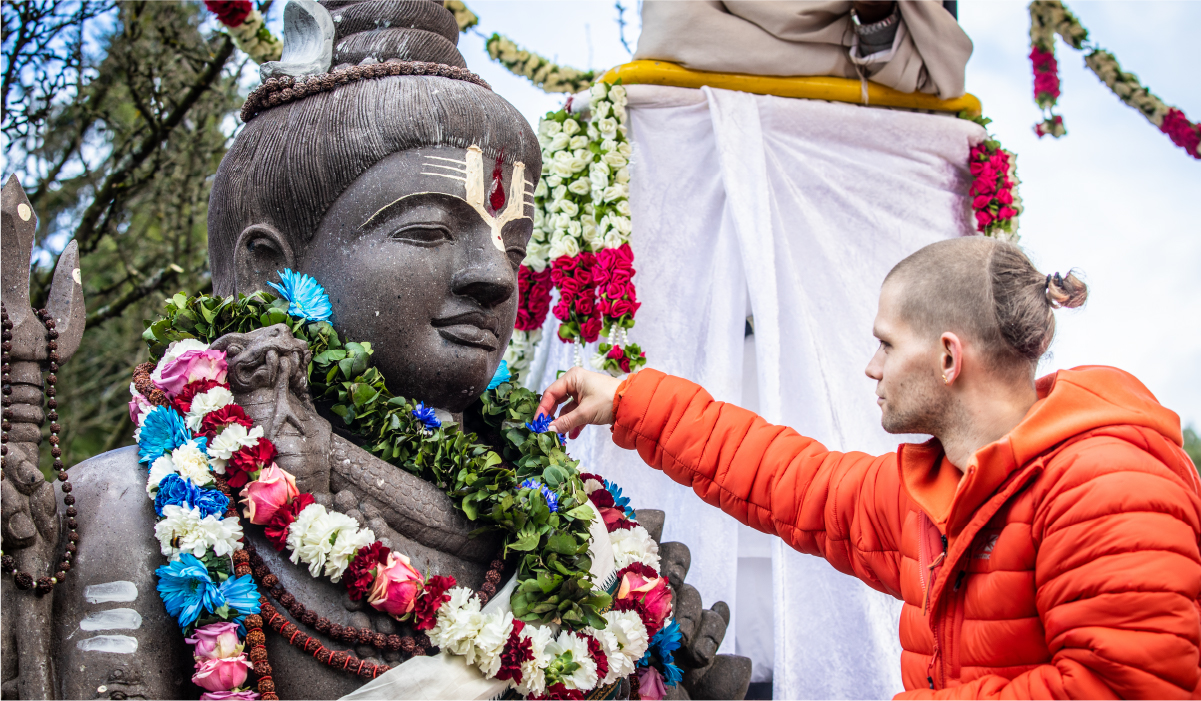 WHAT TO EXPECT
During your stay, you'll be hosted by our Shree Peetha Nilaya swamis and you'll be welcome in all our ashram activities. The aim of this retreat is to help you more fully live your spiritual path. Through the guidance of teachers and SPN swamis, you'll learn how to actively engage with the scriptures, and how to deepen your connection to the divine through puja, art, dance and music. Together, we'll explore practical steps you can apply in your daily life to be able to truly share the wonder of this path with others.
WHAT'S INCLUDED:
All-inclusive Room & Board
2/3-bed or 4-bed occupancy
Access to the Krishna Lounge
Full vegan meal plan and healthy snacks
ACTIVITY SCHEDULE
Wednesday, 15 February
20:45 Virtual Pilgrimage Highlights with Swami Anashuya
Thursday, 16 February
20:45 Virtual Pilgrimage Highlights with Swami Anashuya
Friday, 17 February
11:00 Rituals: Experience Sharing with Shiva Pujari and Swami Anashuya
14:15 Devotional Art: Painting Meditation – Lord Shiva with Rishika Dakshini
20:45 Virtual Pilgrimage Highlights with Swami Anashuya
Saturday, 18 February
11:00 Abishekam to Hari Poorna Bhakta Shiva (Outside)
15:00 Livestream: Shivaratri in Mauritius
18:00 SPN Shivaratri Celebration
Sunday – Thursday, 19 – 23 February
20:45 Virtual Pilgrimage Highlights
Daily Temple Prayers
Morning and evening prayers
Morning Srimad Bhagavatam satsangs
Evening Divya Prabhandam  satsangs
Evening arati in the main temple and outside mandirs  
Daily Yoga & Meditation
OM Chanting
Guided Babaji Surya Namaskar group practise
Guided Atma Kriya Yoga group practise (only for initiated yogis)
Open Art Studio
OPTIONAL ACTIVITIES 
Simple Puja Course with Swami Keshava (Extra Cost €70)
Bhakti Pathfinder Session with Vandhana (Extra Cost €80. Contact pathfinder@bhaktimarga.org for more information)
Silent seva 
VIRTUAL PILGRIMAGE: MAURITIUS – MAHA SHIVARATRI 
Come join the SPN residents and watch a special one (1) hour Highlight Video from the day's activities during the Virtual Pilgrimage. This is a paid program that you can add onto your extended stay, or just come for the nightly program.
The Maha Shivaratri Retreat Virtual Pilgrimage Highlights Program is available from 15 – 17 February
Maha Shivaratri Celebrations in Mauritius and Live SPN activities 18 February
Virtual Pilgrimage Highlights Program from 19-23 February

CANCELLATIONS
If you are unable to attend, please be respectful and cancel your event and room reservation to make space for others to attend.
OPERATOR
Bhakti Event GmbH
Am Geisberg 1-8, 65321 Heidenrod Springen, Germany