VASANTA NAVARATRI 2022
2 April, 2022 · 18:00

-

10 April, 2022 · 12:00

CEST

Free

| | |
| --- | --- |
| | FESTIVITIES |
Registration is now open!
GUEST ROOMS
The Ashram offers a variety of guest rooms, all of which include a meal package.
To request a room, please write us at: registration@bhaktimarga.org
COVID RULES
Please check our COVID rules before registering.
Due to fluctuating Covid legal requirements, we may need to cancel your reservation.
OPTIONAL DONATION
Your generous support helps us to continue to provide quality programs and services. Thank you!
Receive the benefit of all the prayers done during this entire event.  SPONSOR NOW
Support Guruji and His global mission.  DONATE NOW
Vasanta Navaratri is a 9-day festival celebrating the Divine Mother who is the Mother of all creation. Durga Devi, the Remover of Miseries, appears in 9 different forms, each an embodiment of the qualities that one needs in order to advance on the spiritual path.
Spring and fall are times of transition and restoring balance both physically and spiritually. Ancient yogis chose this time to focus on their sadhana and to cleanse the physical body by fasting in preparation for the food changes of the new season. Navaratri is a time when we do both in the company of sangha, our spiritual community. Vasanta or Spring Navaratri is connected to Lord Rama, a masculine aspect of divinity.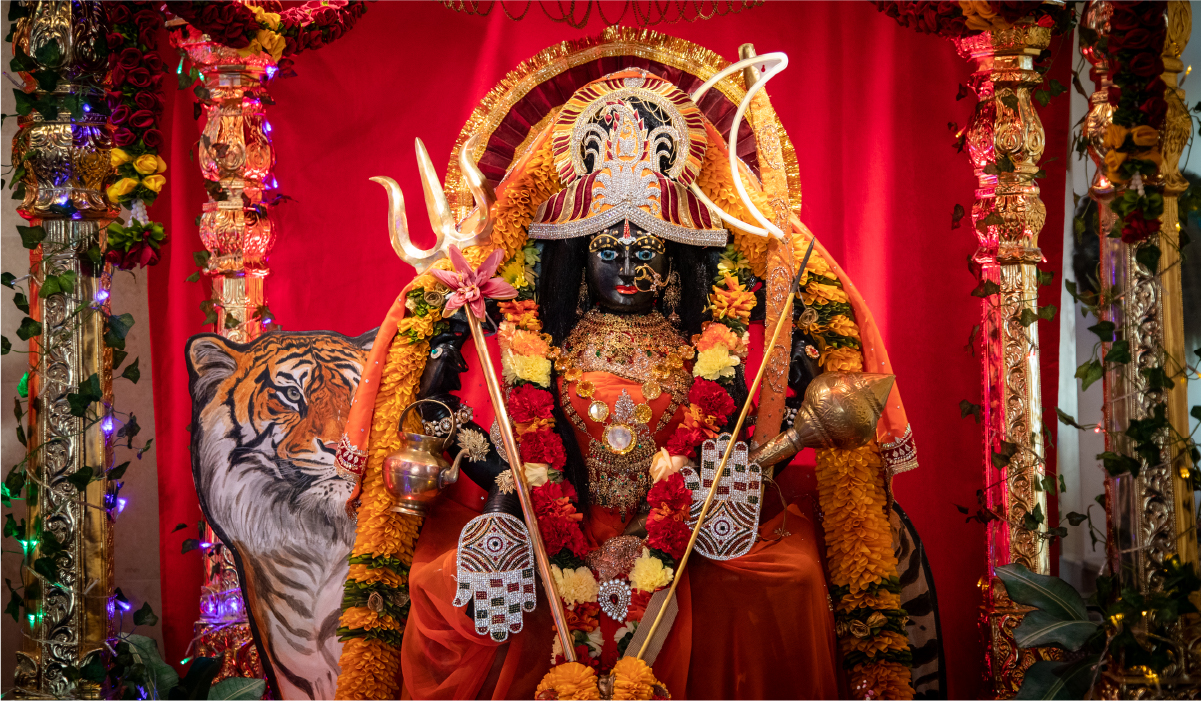 WHAT TO EXPECT
Each night we worship a different aspect of the Divine Mother with special prayers, pujas, and bhajans. After the yajna (holy fire ceremony) and abhishekam, Devi will be dressed and offered an abundance of prasad. The story of Her victories over numerous demons, the triumph of good over evil and the elevation of Divine Love over the ego will be read each evening from the Devi Mahatmyam.
LIVESTREAM
Join the live celebration from the comfort of your own home.

When we offer our love to the Divine, the Divine showers us with blessings. Giving from the heart is a true blessing in and of itself. Giving without expecting anything in return multiplies the blessings even more, especially when you selflessly sponsor an event.
Your donation helps to support the entire event. Everyone who makes a contribution benefits from the prayers that are done, even if you are unable to attend!
Thank you so much for your generous support!
CANCELLATIONS
If you are unable to attend, please be respectful and cancel your event to make space for others to attend.
ADDRESS
The Ashram – Shree Peetha Nilaya
Am Geisberg 1-8, 65321 Heidenrod Springen, Germany