MAHA-LAKSHMI YAJNA WITH PARAMAHAMSA VISHWANANDA 2022
3 June, 2022 · 10:00

-

5 June, 2022 · 15:00

CEST

240.00€ – 340€

| | |
| --- | --- |
| | FESTIVITIES |
Registration is now open.
SPONSORSHIP
Your generous support helps us to continue to provide quality programs and services. Thank you!
Receive the benefit of all the prayers done during this entire event.  SPONSOR NOW
COVID RULES
Please check our COVID rules before registering.
Due to fluctuating Covid legal requirements, we may need to cancel your reservation or alter room configuration which could result in an increase in price. 
GUEST ROOMS
The Ashram offers a variety of guest rooms, all of which include a meal package.
To request more additional nights, please write us at: registration@bhaktimarga.org
ADDRESS
The Ashram – Shree Peetha Nilaya
Am Geisberg 1-8, 65321 Heidenrod Springen, Germany
HONOURING THE GODDESS OF WEALTH
Maha-Lakshmi is the Divine Mother and the eternal consort of Lord Narayana. She provides everything for Her children. Out of Her mercy, She protects them and bestows the boons of spiritual and material wealth to all those who sincerely pray to Her. Join us for this auspicious yajna, the holy fire ceremony, to venerate the Divine Mother and express gratitude for all She does. The Maha-Lakshmi Yajna is an act of worship and love, celebrating Her greatness and service to humanity.
Maha-Lakshmi creates balance by uniting your body, mind and spirit, so that you can advance on your spiritual path. – Paramahamsa Vishwananda
A yajna is an ancient Vedic fire ceremony which has been practised for millennia. Yajna means to selflessly sacrifice for noble purposes. During the yajna we offer our prayers of love and gratitude to Maha Lakshmi for all She does for us. Performing yajna is an act of worship, one where offerings are made into the holy fire which is seen as the mouth of the Divine Mother Herself.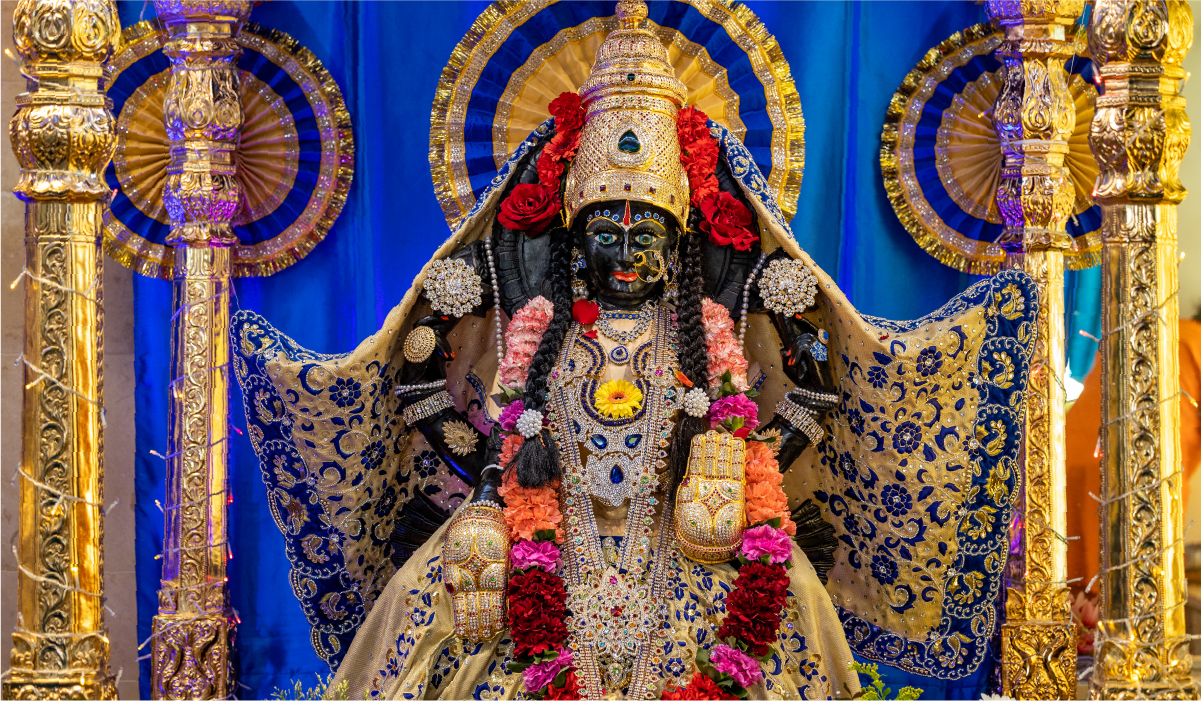 CHOOSE HOW TO PARTICIPATE
All of the following options include our special Maha-Lakshmi Yajna celebration. There are several different ways to take part in this auspicious occasion. Choose the one that is right for you.
MAHA LAKSHMI YAJNA OVERNIGHT PACKAGE (2 nights): €310-340 
3 – 5 June: 2-night stay in a shared room
4-bed room 310€
2-3 bed room 340€
Check in: 3 June, 10:00; Check out: 5 June, 17:00
Maha Lakshmi Yajna Celebration with Paramahamsa Vishwananda
Minimum age: 13 years
MAHA LAKSHMI YAJNA EVENT ONLY PACKAGE: €240

Meals included: 4 June Lunch & Dinner, 5 June Lunch
Registration: 3 June 16:00
Maha Lakshmi Yajna Celebration with Paramahamsa Vishwananda
Minimum age: 13 years
Schedule
This is our current schedule. All times are subject to change based on Paramahamsa Vishwananda.
Saturday: 10:00-15:00 CEST
Sunday: 9:00-15:00 CEST
SPONSOR A MAHA-LAKSHMI YAJNA KUND 2022: €208
If you are physically present in SPN, you may choose to offer your prayers yourself as your own pujari. Instructions will be given and you will be guided through the entire process.
Or, you can have a SPN pujari assigned to make your offerings for you.
Registration is now open.
LIVESTREAM
Join the live celebration from the comfort of your own home.

When we offer our love to the Divine, the Divine showers us with blessings. Giving from the heart is a true blessing in and of itself. Giving without expecting anything in return multiplies the blessings even more, especially when you selflessly sponsor an event.
Your donation helps to support the entire event. Everyone who makes a contribution benefits from the prayers that are done, even if you are unable to attend!
Thank you so much for your generous support!
CANCELLATIONS
If you are unable to attend, please be respectful and cancel your event to make space for others to attend.
For cancellations 6 weeks before the start of the event: 100% refund of the course fee.
For cancellations between the 6th week and up to 7 days before the event: 20% cancellation fee.
For cancellations between 6 days – 24 hours before the event: 50% cancellation fee.
For cancellations less than 24 hours before the event: 100% cancellation fee.
OPERATOR
Bhakti Event GmbH
Am Geisberg 1-8, 65321 Heidenrod Springen, Germany