KRISHNA JANMASHTAMI 2022

| | |
| --- | --- |
| | FESTIVITIES |
Registration is open now.
OPTIONAL DONATION
Your generous support helps us to continue to provide quality programs and services. Thank you!
Receive the benefit of all the prayers done during this entire event.  SPONSOR NOW
Support Guruji and His global mission.  DONATE NOW
COVID RULES
Please check our COVID rules before registering.
Due to fluctuating Covid legal requirements, we may need to cancel your reservation or alter room configuration which could result in an increase in price. 
GUEST ROOMS
The Ashram offers a variety of guest rooms, all of which include a meal package.
To request a room, please write us at: registration@bhaktimarga.org
ADDRESS
The Ashram – Shree Peetha Nilaya
Am Geisberg 1-8, 65321 Heidenrod Springen, Germany
Krishna Janmashtami celebrates of the birth of Sri Krishna, the embodiment of Prem: unconditional Divine Love. Krishna's lilas illustrate all the different ways one can enjoy a loving relationship with the Divine. His life illuminates the bhakti path, showing humanity that through Love one can attain the Lotus Feet of the Supreme Lord.
Krishna is Love incarnate. Now, on His birthday, ask Him to be born inside of you. Ask Him to manifest Himself inside of you. – Paramahamsa Vishwananda
The gopis' love was so pure. Krishna fulfilled each gopi's desire to have Him all for themselves by multiplying Himself during the Rasa Lila. The transcendent love the gopis shared with Krishna was much greater than any human love. Gopi Love is a flawless expression of a purely devotional relationship, an example for us all to aspire to in our own lives.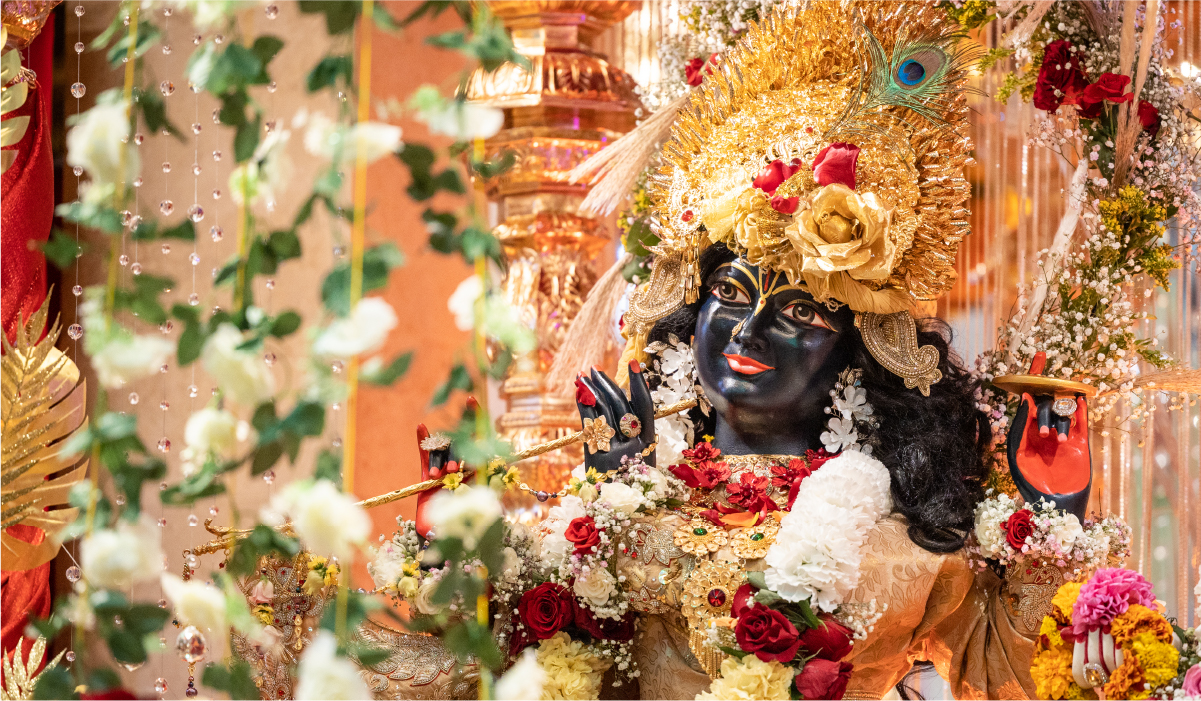 SCHEDULE
Event Registration @Darshan Hall: 16:00 – 21:00, afterwards @Temple
14:30 Bhagavad Gita Yajna @Main Kund in Yajna Shala
20:30 Theater Play @Tent
22:00 Krishna Janmashtami Celebration with Paramahamsa Vishwananda @Temple (please be aware, participation might happen in rounds)
SPONSOR A BHAGAVAD GITA YAJNA KUND
If you are physically present in SPN, you may choose to offer your prayers yourself as your own pujari. Instructions will be given and you will be guided through the entire process.
Or, you can have a SPN pujari assigned to make your offerings for you.
Registration is now open.
LIVESTREAM
Join the live celebration from the comfort of your own home.

When we offer our love to the Divine, the Divine showers us with blessings. Giving from the heart is a true blessing in and of itself. Giving without expecting anything in return multiplies the blessings even more, especially when you selflessly sponsor an event.
Your donation helps to support the entire event. Everyone who makes a contribution benefits from the prayers that are done, even if you are unable to attend!
Thank you so much for your generous support!
CANCELLATIONS
If you are unable to attend, please be respectful and cancel your event to make space for others to attend.
OPERATOR
Bhakti Event GmbH
Am Geisberg 1-8, 65321 Heidenrod Springen, Germany