GURUPURNIMA 2022

| | |
| --- | --- |
| | FESTIVITIES |
Tickets for Gurupurnima
Available with Just Love Festival Tickets.
Click here.
Tickets for Gurupurnima, Evening Abhishekam 19:30 @JLF Main Stage
Registration will open soon.
Registration is ONLY for those without a JLF ticket.
OPTIONAL DONATION
Your generous support helps us to continue to provide quality programs and services. Thank you!
Receive the benefit of all the prayers done during this entire event.  SPONSOR NOW
Support Guruji and His global mission.  DONATE NOW
COVID RULES
Please check our COVID rules before registering.
Due to fluctuating Covid legal requirements, we may need to cancel your reservation or alter room configuration which could result in an increase in price.
ADDRESS
The Ashram – Shree Peetha Nilaya
Am Geisberg 1-8, 65321 Heidenrod Springen, Germany
Gurupurnima is the day we devote to honouring our beloved satguru, Paramahamsa Sri Swami Vishwananda. It is a time to come together as a community to shower Guruji with love and gratitude for all the blessings and guidance He gives us throughout the year.
The aim of the bhakta is to attain the grace of the guru, guru-kripa. With guru-kripa, one is elevated and obtains all gifts, all accomplishments, all wealth, and even liberation. – Paramahamsa Vishwananda
Gurupurnima was originally celebrated in memory of the great sage Veda Vyasa. He was a Divine Incarnation of the Lord who compiled the four Vedas, wrote the 18 major Puranas, the Mahabharata and the Srimad Bhagavatam. It was established as a day to venerate the guru who masterfully guides His devotees to the Lotus Feet of the Lord.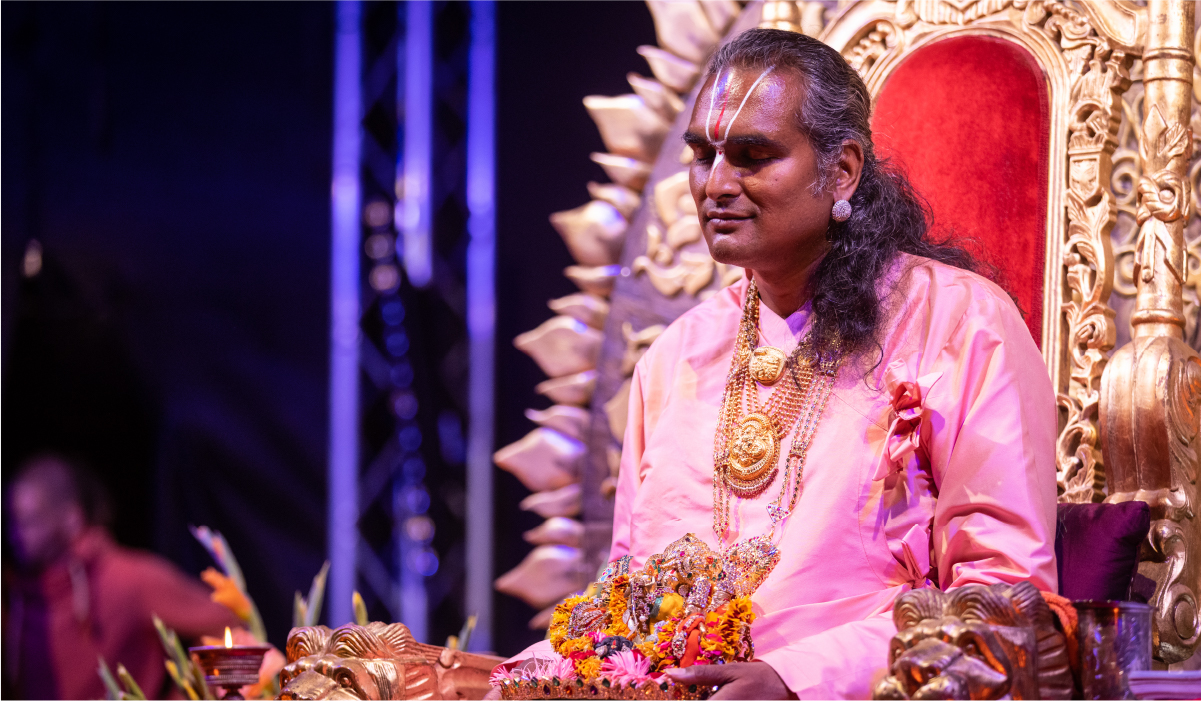 SCHEDULE
18:30 – 20:00 Registration for the Evening Abhishekam Tickets 

@Just Love Festival Main Entrance

19:30 – 22:00 Evening Abhishekam @Just Love Festival Main Stage
LIVESTREAM
Join the live celebration from the comfort of your own home.

When we offer our love to the Divine, the Divine showers us with blessings. Giving from the heart is a true blessing in and of itself. Giving without expecting anything in return multiplies the blessings even more, especially when you selflessly sponsor an event.
Your donation helps to support the entire event. Everyone who makes a contribution benefits from the prayers that are done, even if you are unable to attend!
Thank you so much for your generous support!
CANCELLATIONS
If you are unable to attend, please be respectful and cancel your event to make space for others to attend.
OPERATOR
Bhakti Event GmbH
Am Geisberg 1-8, 65321 Heidenrod Springen, Germany