FULL MOON ABHISHEKAM 2022
8 December, 2022 · 07:00
CET

During the full moon, the water element in our bodies is especially activated, which often leads to increased emotionality and negativity. Witnessing abhishekam, either in person or via livestream, transforms this negativity and helps to balance and purify the natural elements of the body.
Abhishekam is a beautiful bathing ritual where five different substances are poured onto the deity. These substances symbolise the five elements of our physical nature and our lower nature emotional qualities. Through the Grace of the deities, these elements, our five senses and the mind are purified and transformed in a positive way. 
Milk/water element/ego is offered to be elevated into wisdom and selflessness.
Yogurt/earth element/pride is offered to be transformed to humility.
Ghee/fire element/karma is offered in hopes of being freed from the bonds of material desire.
Honey/air element/Maya is offered up so that we may transcend illusions and rise to attain the Divine.
Sugar/ether element/emotionality

 

(in particular, jealousy) is offered to be balanced and harmonised so we can be uplifted into the sweetness of the Divine.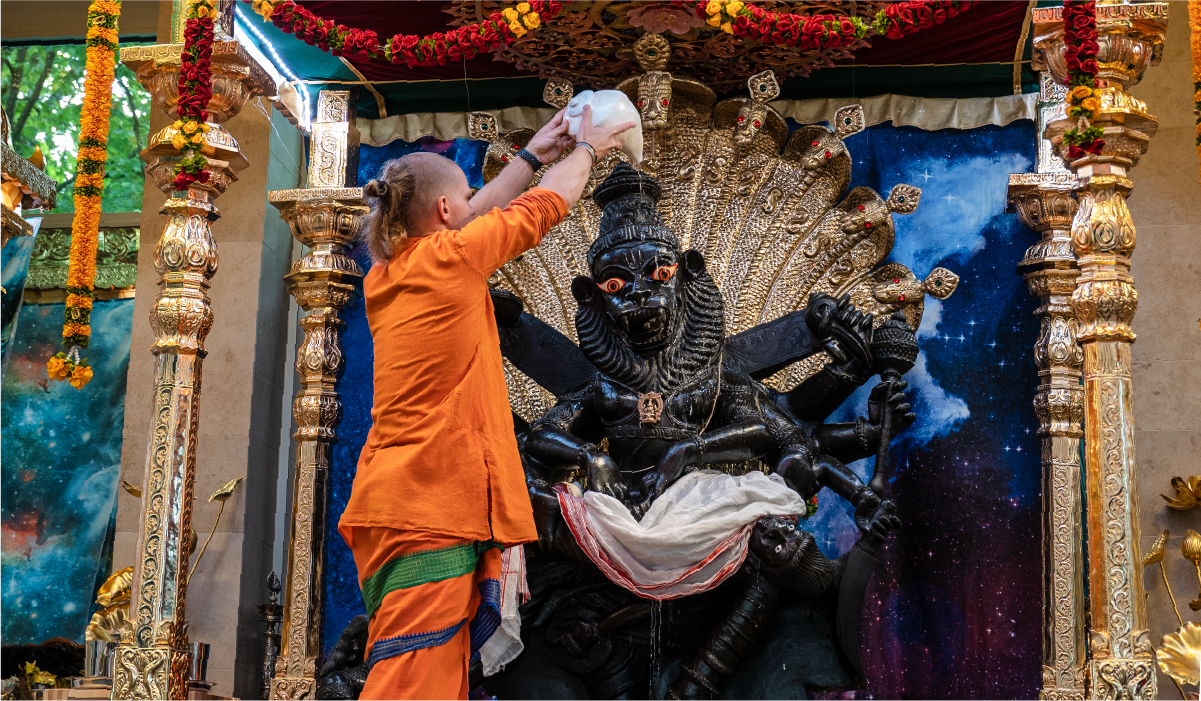 ENJOY THE EXPERIENCE
Abhishekam is done every day to the Shaligrams of the Bhutabhrteshwarnath Mandir. On the full moon, our regular morning prayer service is extended to include a special Maha Abhishekam on the large deities on the main altar. The whole event lasts about three hours. While the curtains are closed, and the deities are being dressed, you will hear a Srimad Bhagavatam satsang and enjoy singing and dancing to additional bhajans.
LIVESTREAM
The entire event will be broadcast LIVE for you to enjoy from the comfort of your own home.

When we offer our love to the Divine, the Divine showers us with blessings. Giving from the heart is a true blessing in and of itself. Giving without expecting anything in return multiplies the blessings even more.
Your donation helps to support the entire event. 
Thank you so much for your generous support!
OPERATOR
Bhakti Event GmbH
Am Geisberg 1-8, 65321 Heidenrod Springen, Germany