BHAKTI YOUTH SANGHA 2022
19 July, 2022

-

28 July, 2022

| | |
| --- | --- |
| | SHREE PEETHA NILAYA |
PRICE
€200 Youth Sangha including accommodation & meals
€350 combined JLF Seva Package & Youth Sangha
REGISTRATION
Registration closes 20 June 2022.
After you register, your application will be reviewed for final selection of participants.
You will be notified of the status of your application via email by 25 June 2022.
ADDRESS
The Ashram – Shree Peetha Nilaya
Am Geisberg 1-8, 65321 Heidenrod Springen, Germany
COVID RULES
Please check our COVID rules before registering.
Due to fluctuating Covid legal requirements, we may need to cancel your reservation or alter room configuration which could result in an increase in price. Payment is due upon arrival.
GUEST ROOMS
The Ashram offers a variety of guest rooms, all of which include a meal package.
To request additional nights, please write us at: registration@bhaktimarga.org
This incredible spiritual summer camp is a perfect way for youth to meet like-minded friends from around the world who are committed to growing spiritually and living a spiritual life.
It's really beautiful to see that youngsters are moving towards spirituality, and I think this is great in the world today. It's really a grace to be spiritual, and to receive it at such a a young age. – Paramahamsa Vishwananda
The Summer Sangha provides the tools and knowledge required to live a purposeful life, build a solid spiritual foundation and to practice spirituality based on the teachings of Paramahamsa Vishwananda.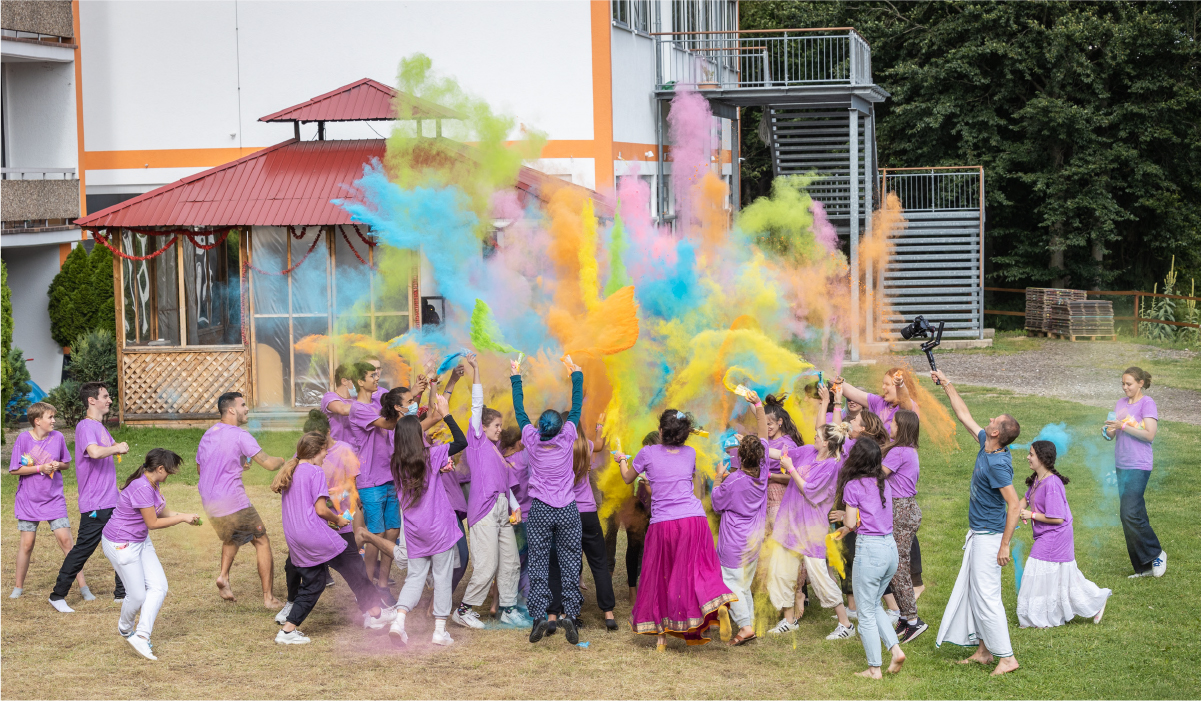 ENJOY THE EXPERIENCE
Programs are presented by young adults who have found value in their Master's wisdom and wish to share it with others to help them advance on their own spiritual path. The Bhakti Youth Sangha provides a rich and rewarding experience for young adults ages 16 to 26.
Activities
The week is full of fun and educational activities designed to nurture divine creativity, deepen knowledge about the bhakti path, and to explore ways to experience the Love of God in daily life.
Time with Paramahamsa Vishwananda
Four Arms of the Bhakti Marga Path

Devotional Arts: Music, painting meditations, dance, theatre
Yoga & Meditation: OM Chanting, japa walks
Rituals: Yajna, chanting
Knowledge: Scriptures, quizzes & games

Fun

Building sangha
Bonfire
Ice Cream party
Games

Seva: Selfless service

REGISTRATION PROCESS
AFTER YOU REGISTER, YOUR APPLICATION WILL BE REVIEWED FOR FINAL SELECTION OF PARTICIPANTS.
Registration closes 20 June 2022.
This program is only open for youngsters between 16-26 years of age.
Make sure you will be able to travel to Germany.
Submit your application.

Submission does not guarantee you a place.

You will be notified by email as soon as we know our final numbers.

The email will come no later than 25 June 2022.
Those who are accepted will receive payment instructions and further details.

Thank you for your patience and understanding.
JUST LOVE FESTIVAL & BHAKTI YOUTH SANGHA
Just Love Festival is happening just before Bhakti Youth Sangha, 08.07-17.07, and we would love to have you come for both! 
To help, we would like to extend a special price to book JLF and summer sangha. After your application has been approved for summer sangha, you will be eligible to join the youth seva group at JLF.
The Youth Group at JLF includes: 
Camping accommodation in seva village
Free Entry to the festival
3 meals per day
Full Day Seva with one of the JLF teams
And lots of fun!
Price: €350 (Youth Sangha & JLF)
Due to space limitations people are often turned away from events, especially those with Paramahamsa Vishwananda. So, if you are unable to attend your reserved event, please be respectful and cancel your reservation as soon as possible to make space for another.
OPERATOR
Bhakti Event GmbH
Am Geisberg 1-8, 65321 Heidenrod Springen, Germany